These Potty-Training Seats and Toilets Free You From the Tyranny of Diapers
You can do it. Yes you can.
by Donna Freydkin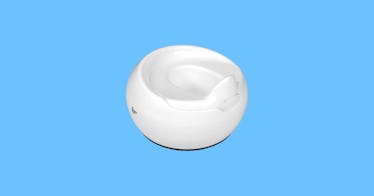 So you're ready to pull the plug on diapers and start potty-training. And that means you need the best potty-training seat and potty-training toilet to get the job done. But given that the market is, well, saturated, the search for a potty chair can be as taxing as getting your kid to actually use the damn thing.
But first, some basics. The American Academy of Pediatrics says that in general, most kids are physically ready to start toilet-training at around 18 months. But that doesn't mean they're cognitively ready to do it. They need the motor skills to actually get to the bathroom, and the emotional desire to be independent. Once your kid is interested in using an actual toilet, then make your move.
And aside from ending your reliance on diapers, which are horrendous for the environment, there are other payoffs to learning to use the toilet: Kids who go potty get a "wonderful new sense of competence and even independence. Your child has become more confident and independent as a result of your efforts to help him achieve this developmental milestone, and his pride in his ability to master a new skill will support his further development," per the American Academy of Pediatrics.
Take your kid with you when you buy the potty training seat, so they have some ownership of the situation and feel empowered. Where you place the potty is up to you and your child. After your kiddo starts using it on a regular basis, move it to the bathroom and then replace it with a toddler toilet seat on an adult toilet.
The Best Potty Chairs for Leery Kids
The Best Potty-Training Toilets
The Best Potty-Training Toilet Seats
Every product on Fatherly is independently selected by our editors, writers, and experts. If you click a link on our site and buy something, we may earn an affiliate commission.
This article was originally published on