The Best Pop-Up Beach Tents and Baby Beach Tents
Keep out the rays, the bugs, and the sand.
by Hudson Lindenberger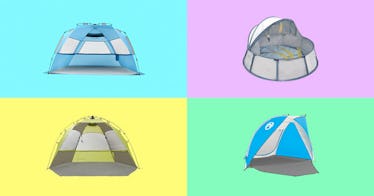 Few things ruin a beach day like a burning, peeling, crying kid. A pop-up beach tent provides a welcome, semi-sheltered place to take a break from the waves and the rays, especially for young kids who can't take much sun. The best beach tents serve as a portable baby changing space, a shady spot for naps, or even an impromptu shelter from any inclement weather that rolls your way. Baby beach tents, in particular, are especially designed to keep the smallest members of your family safe and happy.
A good shelter should be easy to set up and take down, sturdy enough to not fold over when a stiff wind blows in, and made of fabric with at least a 30 UPF, which means it only allows 1/30th of the sun's UV rays to pass through. It should have stakes or sand pockets to anchor it to the ground and a bag that makes it easy to carry as you scope out the perfect spot.
The Best Beach Tents
The Best Baby Beach Tents
Every product on Fatherly is independently selected by our editors, writers, and experts. If you click a link on our site and buy something, we may earn an affiliate commission.