The Coolest Pokémon School Supplies
I choose you, Pokémon backpack.
by Ben Radding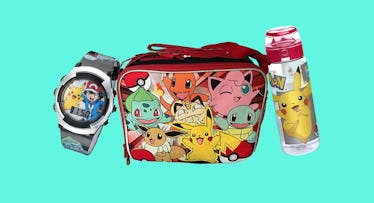 Like a virus, it starts with one kid, they hang out with their friends, it hits the next, and the next, and then they're hanging out at lunch, and suddenly the whole table has it. I'm talking, as you can tell from the headline, about Pokémon, the franchise that your kid wants stamped on their backpack and other school supplies this season.
Originally released as awesome GameBoy games in the mid-90s (I was a Pokémon Red guy myself), Pokémon managed to take the world by storm with multiple generations of little and big monsters — television, card games, and merchandising, merchandising, merchandising. We're talking everything from Pikachu latte mugs to Evee slippers, Pokémon birthday parties and card swap events. The Pokémon universe's items are universal symbols of youth and reckless fun: you can see and know a Pokéball yards away, even if you've never watched the show. In tech, you have the groundbreaking augmented reality game Pokémon Go: full-grown adults on vacation combed beaches with their eyes glued to their phones, finding nothing but Zubats. And we're sure you remember "I want you to Pokémon Go to the polls!" We'll never forget.
Of course, your kids are obsessed with them. Sorry. So you might as well give them what they want in their back-to-school supplies. Below are the ultimate school supplies with the Pokémon twist your children desperately want.
Pokémon Kids Backpack + Pencils
The original fearsome foursome — Pikachu, Squirtle, Charmander, and Bulbasaur — featured on one backpack makes your kid a connoisseur of the classics. Plus with this bundle you get a little more bang for your buck, with 12 Pokémon-themed pencils included.
Pikachu Stationary Set
A big, smiley Pickachu on a tin case? Great. But bundle it with a little Bulbasaur notepad, Pikachu notebook, a ruler, a pencil, pen, and more? You basically have a first-graders dream back-to-school supply set.
Pokémon Pencil Case
Your kids need to keep their pencils and pens somewhere — and where better than this colorful, fun pencil case? It's got easy-to-use interior pockets for other knick-knacks as well. And for young ladies, it can double as a cosmetics case.
Pokémon Digital Watch
A watch is essential for a kid to be on time — or to learn how to tell time — so make them stand out with this cute watch that features Ash and Pikachu ready to take on the world. Other Pokémon decorate the strap, so no matter what angle, your kid is showing off.
Pokémon Lunch Box Bundle
A great little Pokéball lunch bag is a steal anywhere. Bundle it with a Pikachu backpack and pencil case? Winner. Your kids are covered for all their school needs.
Ultra Pro Pokémon Snorlax 3-Ring Binder
Featuring reinforced 2-inch rings in a 3-ring binder, this item is a must-have for kids at the beginning of the school year. The Snorlax that adorns the front is a nice touch — after all, we can't imagine anything other than sleeping is what a kid wants at 8:30 in the morning.
Pikachu Water Bottle
This bottle has a mouth that's wide enough for ice cubes on a hot day. It's also clear, so your kid can see exactly how much water is in it, and Pikachu having a blast gives your kid plenty of motivation to go outside.
FAB Pokémon Lunch Bag
This convenient lunch bag that collapses for awesome storage. Its designed to insulate and store food for hours, so your kid's lunch never loses temp. And on the front: All your kid's favorite friends — Meowth, Bulbasaur, Evee, and Pikachu.
This article was originally published on