The 6 Best Minivans For Dads Prove Kid-Haulers Are No Longer Lame
Check out these big family-haulin' beauties.
by Michael Frank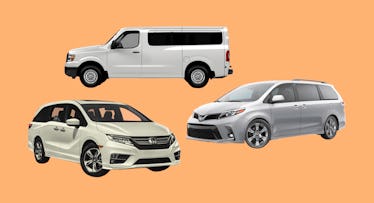 The minivan is the symbol of all that is domesticated and tame. Nobody willingly chooses an Odyssey when they can drive a Mustang instead. At some point, however, life becomes a numbers game. If you have x number of kids, a car will no longer suffice. If you have more than x, even your SUV starts to get cramped. Eventually, the minivan becomes the smartest, most economical, decision a dad a can make ⏤ assuming he can muster the confidence to climb behind the wheel.
If so, there's some good news for minivan buyers these days: The kid-haulers have secretly become excellent cars. Long gone are the Ford Aerostar and Chevy Astro, today's minivans offer more value-per-square-foot of human- and stuff-hauling space than any other vehicle on the market. In fact, there's not a single SUV out there that's anywhere near as affordable or roomy as even the average-sized minivan. They come loaded with all the latest safety tech, get comparable gas mileage, and handle surprisingly well. Even better, unlike SUVs, they they ride low ⏤ which means loading and unloading, anything from a grocery bag to double stroller ⏤ is that much easier.
But which minivan out there is right for your growing family? And which will get you the most bang for your buck? We took a look at the current offerings, both new and used (three-year-old, off-lease), and picked our top six based on varying needs.
Best For Going Green: 2019 Chrysler Pacifica Hybrid
We already love the standard Pacifica and rank it tops for passenger roominess, especially for front-seat riders. It's also crammed with safety features, including blind-spot and cross-traffic warnings, front-collision warning, adaptive cruise control, lane-departure warning, etc. And while the $39,995 hybrid version may sound like an expensive up-sell (running $2,100 more than a swanky Pacifica Limited), don't forget the $7,500 tax credit you can get for buying a hybrid, or the fact that you'll get 33mpg combined ⏤ versus 22mpg combined for the gas-only model. Or the fact that the Pacifica Hybrid can roll 32 miles on EV juice without gas, too, meaning that a lot of around-town drivers will rarely have to fill up at all. The only catch: the Hybrid doesn't have the same storage space as the standard Pacifica, though, as Chrysler had to nix the in-floor seat stowage system to accommodate the battery pack. So, if you frequently find yourself in need of extra cargo space, consider the standard model.
Best Affordable AWD: 2016 Toyota Sienna LE
A 2019 Toyota Sienna LE with AWD costs a whopping $42,000. But shop for a Certified Pre-owned or off-lease 2016 Sienna LE with all-wheel drive and you can easily find one in the low $20k range. And the Sienna is a darn good minivan. It's not quite as quick ⏤ or as quick on its toes ⏤ as the Honda Odyssey, but it handles well enough and is quiet ⏤ especially when it comes to road- or wind-roar on the highway. It also boasts dual-sided sliding doors, a third row that folds into the floor (offering 40 cubic feet of cargo aft of the second row), and Toyota's excellent reputation for reliability. Two things to keep in mind as you're shopping: One, if you need seating for eight instead of seven, look for a model with a second-row bench rather than captain's chairs. And two, in terms of safety, try to find a 2016 with rear parking sensors, blind-spot monitoring, rear cross traffic alert, and adaptive cruise control.
Best For Going Big: Ford Transit 350
Raising a big family is expensive, and you have to save money where you can. The Ford Transit 350 not only holds all the kids ⏤ it's gargantuan and seats up to 15 in the longest configuration ⏤ but it's a solid value used, too, with prices starting in the mid-$20k range (even for models with less than 30,000 miles). And that's a considerable savings over the $42,000 new price tag. Ford doesn't skimp on safety, either, with a full curtain airbag for all passengers. A few things to keep in mind though if you roll with a Transit, since it's not your traditional minivan. First, if you're going to be driving with a full load, or at altitude, get the Ecoboost twin-turbo V-6 engine ⏤ this smaller, 3.5-liter V-6 is way stronger than the base model 3.7 liter, and you'll need the 400 lb. ft. of torque. Second, this is a rear-wheel drive van, not front-wheel drive. You'll absolutely want snow tires for any sort of winter driving. Third, it doesn't like the wind and, unlike the Mercedes-Benz Sprinter, doesn't come equipped with special tech to deal with crosswinds created by oncoming 18-wheelers or Mother Nature.
Best for Pretending You Bought a Sports Car: 2018 Honda Odyssey Touring
The eight-passenger, $44,610 Odyssey Touring marries a 10-speed automatic transmission with a quick-revving 280HP V-6 engine ⏤ and it can hit 60mph in 6.7 seconds in case you're late for soccer practice. Also, of all the vans on the market today, the Honda handles the most like a five-passenger sedan. Now, pros and cons: We don't love the infotainment system (the UConnect design in the Chrysler is easier to navigate) but do love the excellent knee room in the third row. You'll sacrifice some cargo space compared to other vans in the eight-passenger segment, but if you have older kids, the Odyssey's aft digs are a lot more pleasing. This model also features an in-car camera with rear-seat monito, so a quick glance rather than a dangerous full-head swivel lets you see your kids and chide them as need be. Not only that, but the EX and above models feature safety features you're going to want, including a multi-angle rearview camera system that's incredibly handy for parking and avoiding accidents, road-departure mitigation/lane-departure mitigation and assist, and adaptive cruise control.
Best For Affordability: 2016 Kia Sedona
Trying to find a minivan for under $20,000 is an almost quixotic endeavor, unless you shop used. But if you do, look for a 2016 Kia Sedona. Not only can you usually find one in the $18-$20,000 region, but the 10-year/100k warranty is baked into Kia's Certified Pre-Owned Program and the Sedona, while not exceptional in any single area, is a Goldilocks at almost everything: It handles well enough; it's quick enough; and its 20 combined city/highway fuel economy bests any used SUV that could haul eight people. As for the interior, it's reasonably comfortable and comes in just a hair behind the Pacifica and the Sienna (although, admittedly, it's not the quietest). Bonus Tip: Make sure your used Sedona is/was equipped with the UVO infotainment system and that the dealer updates it for Android Auto/Apple CarPlay. This tech (unlike most infotainment systems) will stay current as the pairing systems update, and Kia is one of few carmakers offering this phone pairing retroactive to older models.
Best For Towing: Nissan NV 3500 SL
Like the Ford Transit 350, the 12-passenger Nissan NV3500 HD isn't a minivan per say but is worth considering for big families who need a lot of space. It comes equipped with a giant V-8 — suitable for towing up to 8,700 pounds ⏤ and an excellent 5 year/100,000 mile warranty. All rows behind the front can be removed, and the fourth-row seats split 50/50, so the interior layout is flexible. If you have a large family (but not football-team big), the 3500 SL is more versatile than most options. It's also reasonably safe with roof-mounted air bags and rollover sensors for side-impact, and rollover head protection for all outboard passengers. The NV 3500 is based on the Mississippi-built Nissan Titan truck chassis, so if you're used to driving a full-sized pickup, then you'll be right at home piloting this guy. That said, the Ford has faster reflexes and is more carlike, so it's worth driving both before buying.
This article was originally published on