Winning Pairs: The Best Men's Sunglasses Under $50
They'll keep your eyes safe from the sun and yourself safe from bitter self-recrimination when you inevitably lose them.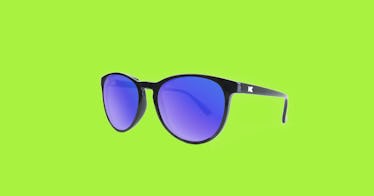 For something that comes up every day, the sun can really take you by surprise. How many times have you been speeding down the highway or just tossing a ball in the yard and then, bam, there it is. You reach down to grab your pair of sunglasses from your shirt and realize, shit, you lost them. Here's the thing, everyone loses sunglasses all the time. I used to buy expensive pairs from fancy companies — Oliver Peoples, Spy, Garrett Leight — but after a few months of taking care of them, they'd just disappear and there I'd be, squinting into the sun and my own inadequacy. So I made a point to find more affordable options. Here, then, are a bunch of men's sunglasses under $50 that'll keep your eyes safe from the sun and yourself safe from bitter self-recrimination when you inevitably lose them.
The Oxford by Quay
Quay is a Melbourne-based sunglass company. (They call them sunnies there.) A lot of their sunnies are over the top and bro-like but The Oxford is their most classic style and their best. Clear plastic frames in a low-key silhouette give a nod to the mods. Sizewise, at 143mm, they won't dominate your face.
Polarized Wayfarers by Cali Trend
The original Ray Ban Wayfarers from 1956 were an homage to Cadillac tail-fins and Eames chairs. This pair, with its bright polarized frames, dark black frames, and full UV-Protection, recalls more Malibu circa 1990, the era of North Shore and Zinka. They are, in a word, totally radical.
Knockaround Mai Tai's
Sometimes you need eye protection whilst reenacting scenes from Weekend at Bernies. These, from San Diego-based Knockaround, got you covered. There are scores of variations of the Mai Tai, all with durable plastic frames and UV polarized lenses. And, at only $20, you might as well get a couple.
4est Maple Sunglasses
These handcrafted eco-friendly glasses are made with real Maple (just like the syrup!). Wood sunglasses have many merits. One is that petrochemicals are killing us. Two is that they float. Plus, when it comes to these by 4est, for every pair you buy, two trees are planted. So you'll have a lush world to look at through the shades too.
Suncloud Sentry Polarized Sunglasses from LL Bean
If you're the kind of guy who likes the wraparound look, then these glasses from L.L. Bean are a great option. For the price, you get a lot: durable polycarbonate polarized lenses, a venting system which reduces the annoying phenomenon of foggy lenses, and smart touches such as rubberized nose pads and earpieces that hold the glasses in place.
7X Retro Sunglasses in Brown
Slender brass arms grip the head, a retro tortoise shell frame holds in the dark tinted lenses. For $16 these look damn cool. Hell, for $50 these look damn cool. Happily, they're only $16.
Golden Aviator Sunglasses by J Crew
Along with the Wayfarers, Aviators are one of the most classic silhouettes. Originally designed for pilots — duh! — this pair by J. Crew's Factory Store offer the traditional look for a fraction of the price of original Ray-Bans. For the price, they actually feel substantial on your face, with a pleasing weight and heft.
Happy Hour Shades G2's
These classic club frame sunglasses from Long Beach's Happy Hour Shades are the ideal knockarounds: stylish, affordable, and available in a variety of colors (we're partial to the clear gloss black). As they're $15 a pair, you can buy a few backup pairs without your wallet feeling lighter.
J.Crew Round Frame Sunglasses
Pro Tip: The J.Crew Factory Store is a good place to score last season's stuff on the cheap. For instance, these glasses, which feature UV 400 protection and the timeless look of pairs that cost more than $100, are available for $27.
Burger and Friends Payback
While Burger and Friends is home to some bold looks, they also offer a nice selection of well-priced basic throw-around shades. Like these Ray-Ban-ian shades, which sell for $8.
This article was originally published on