8 Men's Leather Jackets That Make You the Coolest Dad on the Block
It's leather jacket season. Act accordingly.
by Nicholas McClelland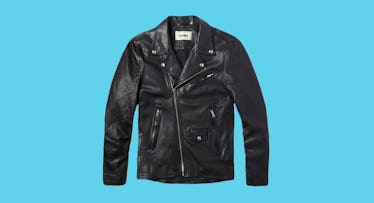 Fall is the time if candy and costumes, sure. But it's also the time of cooler weather which means, more importantly, it's leather jacket season. There is no piece in your wardrobe more fun to put on than a leather jacket. It's classic and, let's face it, makes you feel cool. A good one is a no-fuss iconic style piece you can wear with damn-near anything. Oh, and as an extra added bonus, it keeps you warm too. If you don't own one or are just in need of an upgrade, here are eight leather jackets to consider.
Schott NYC Casual Racer
Schott's casual racer's simplicity gives it an understated elegance that straddles the line between classic and contemporary. So, it will never go out of style, which is good since its hardy construction will help it last for decades. The jacket comes in three colors. Both brown and classic black look great, but for our money black cherry is way to go.
Buck Mason Bruiser Moto Jacket
You can count on Buck Mason to take a classic, execute it to perfection and then give it a lovely little detail that will make you smile every time you put it on. Their Bruiser Moto jacket is no exception, its a flawless homage to the icon with a special touch – a bit of Frankenstein stitching just north of the cuff — because it's the little things that make a piece like this truly great.
Goosecraft Biker 972 Suede Jacket
Suede is leather's answer to cashmere. Its soft, supple and feels more lux by a power of 10. Suede also looks great in lighter colors like this option from Goosecraft so you can pair it with darker pants for a pop of contrast.
H&M Suede Shirt Jacket
Of course, not all leather jackets need to look like you just hopped off a chopper. This suede shirt style from H&M is clean and casual and will certainly stand out in a crowd.
Gap Leather Biker Jacket
The Gap, you say? We were shocked a little too, but turns out they still make some cool stuff. The ribbing on the shoulders of this this racer style jacket give it a modern look while the straight fit makes it easy to wear.
Taylor Stitch The Seca Jacket
Inspired by WWII pilot jackets, the Seca jacket is a modern collaboration between two California makers, Taylor Stitch and Golden Bear. Hand made in San Fransisco from steer hide, this jacket, named for the famed Laguna Seca race track, may take a little while to break in, but once you give it a little love, it will start to feel like a second skin.
Belstaff Gangster 2.0
Damn it feels good to be a gangster. But we admit $1,800 is a massive chunk of change to drop on an item of clothing. But if ever there were a piece to blow a mortgage payment on, this is it. You'll wear this Belstaff for a decade, if not two – and then turn a blind eye when your first born steals it on his way to college. Of course, you should feel free to confiscate it (and his weed) on the very first parents' weekend. Or… maybe the second.
Uniqlo Faux-Leather Single-Breasted Jacket
If you aren't comfortable wearing leather, there are some solid (and affordable) faux options out there. Our favorite is Uniqlo's single-breasted jacket. It's clean and simple design pairs with pretty much anything, and at under $80, it's a choice that doesn't require much commitment.
This article was originally published on