7 Essential Sweaters for Men, According to Robert Downey Jr.'s Stylist
When you feel that chill creep up your spine, reach for one of these, confident in the fact that there's no wrong way to wear one of these options.
by Jon Gugala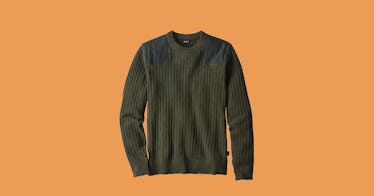 Worn on their own or beneath a jacket, the best sweaters for men are the T-shirts of fall and winter. Men's sweaters are workwear, dirt wear, and all-around life wear, just like your favorite pair of jeans.
"For almost any guy, my favorite thing right now is a crewneck in wool or cashmere. You'll wear it in lieu of a T-shirt. It's an easy, fantastic, no-brainer piece," says stylist Jeanne Yang, who dresses Robert Downey Jr. and Jason Momoa.
Here, then, are great sweaters in the iconic styles that are as easy to wear as your summer slub-neck. They are best worn out of necessity, not out of fashion (though they will be fashionable).
This is the best kind of basic: A style that never goes out of style. Pendleton's timeless cotton sweater is rich with color and texture.
Pair this wool cardigan with fitted pants, and make sure the sleeves fit just right. You don't want anything too oversized or baggy.
This cashmere sweater, ribbed at the collar and cuffs, is perfect on its own or layered under your favorite jacket.
This closet staple is made from sustainable Mongolian cashmere and as you might suspect, wearing it is akin to wrapping yourself in the softest of cotton. You get a round crew neckline, and pull on closure. You can layer it, or wear it solo.
Cashmere runs hot. Very hot. So if you tend to overheat, opt for this waffle-print sweater, which is 85 percent cotton, 15 percent cashmere, and 100 percent flawless.
Easy on the wallet and the eyes, this traditional rib stitch sweater is 100 percent cotton. It's the ultimate casual weekend sweater.
It's warm. It's wonderfully fitted without being too tight. And it lands just below the waist. Wear it to work, to the pub, wherever you want.
Every product on Fatherly is independently selected by our editors, writers, and experts. If you click a link on our site and buy something, we may earn an affiliate commission.