The 10 Best Meat Delivery Services for Discerning Carnivores
Want to buy a nice prime rib for Christmas? Or just find a gift for a red meat lover? Try one of these services.
by Emily Kelleher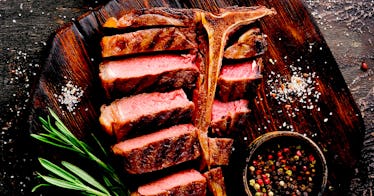 Holy Grail Steak Co
Meat delivery services seem like a modern extravagance. With just a few clicks, you can have a Berkshire pork crown roast to a grass-fed prime rib and everything in between delivered to your front door — frozen of course, and only a few hours from a smoker or grill. But there are many practical reasons to spend a few bucks on some of the best meat delivery services today. The first is, as many note, quality: With butcher shops in short supply and many Americans buying their meat from chain grocery stores, protein delivered in a box is often of an elevated quality. For others in more remote locales, these services provide wider options, which open greater paths to culinary adventure. Whether you're seeking a celebratory cut of meat for a Labor Day barbecuer, simply want to have some nice, locally-sourced chops sent to your address, or gift someone the perfect T-bone, the best meat delivery services of 2021 have you covered.
When using one of these services, you simply select what you want. Then they go about selecting the best cuts from the best places in the world, flash-freezing them and shipping them post-haste. Just like that smart home system that you were skeptical about but now can't imagine being without, these services quickly become an indispensable part of your family's mealtimes.
The 10 best meat delivery services let you browse meat (from steaks to seafood) online by cut and source. You can also get organic meats — hormone- and antibiotic-free beef, pork, chicken, fish, and more — shipped to your door while you shelter (and grill) in place. To preserve quality and flavor, most of them flash-freeze their meat, vacuum-seal, and deliver them in insulated coolers with dry ice. All that's left for you to cook and enjoy. Here are some of our favorites.
Every product on Fatherly is independently selected by our editors, writers, and experts. If you click a link on our site and buy something, we may earn an affiliate commission.
This article was originally published on