The Best Lunch Boxes For Grown Men
Because your snacks need to be taken care of, too.
by Hudson Lindenberger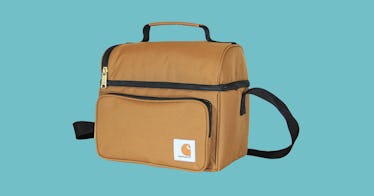 The first worksite lunch boxes were more than mere meal transporters. Heavy duty latched metal pails, they were rugged carriers built to endure the perils of the coal mine, construction site, or quarry. They were also an indication that one couldn't afford a hot meal but eventually became an emblem of the working class. Today's lunch boxes for adults, while a bit less heavy duty (plastic is now the favored material) are still tough. They're also insulated, able to keep food fresh for hours, and available in a variety of styles that fit in any place from the office to oil rig. What we're saying is the lunch box has come too far for you to bring your salad in a flimsy grocery store bag. So check out one of these great options.
Carhartt Deluxe Dual Compartment Insulated Lunch Cooler Bag
Is there anything better than a cooler wrapped in the famously tough Carhartt material? We think not. Besides looking good, the exterior fabric is incredibly durable and sheds stains simply. The insulated main compartment easily fits a few sandwiches or Tupperware containers, plus a beverage Inside the insulated lid another large zippered compartment offers more spots for food, plus a large zippered pouch on the front will let you pack some utensils.
MIER Adult Lunch Box
This double-decker lunch bag offers you versatility for mealtime. In the insulated bottom compartment you can toss items you want to keep chilled in with a reusable blue ice block to ensure freshness at mealtime; the expansive upper compartment, on the other hand, is perfect for other snacks that you don't need to cool. On top of those two areas, there are also three other zippered compartments to keep other things you might need.
Marlowe Lunch Bag
This waxed canvas bag will make sure you can locate yours in seconds, and that no one else "mistakenly" borrows your meal. Made from leather, cotton, and canvas and based on the classic brown paper bag design, it's large enough to hold a couple of sandwiches and other items. At the end of the day, it will nicely fit inside a briefcase.
Upper Order Durable Insulated Lunch Box
Want a lunch bag that won't look out of place in an office? Look no further. The dark grey heavy-duty Oxford cloth canvas this bag repels most stains and cleans with soap and water. It has a large insulated compartment that can easily accommodate most meals. Unlike other bags, this one is soft sided and therefore will easily fit in a briefcase or carrying bag. Its streamlined design offers one interior pocket to store utensils.
Stanley Heritage Cooler
No lunch box list would be complete without something from the Stanley, which has been turning out classic workman pails for decades. This seven-quart beauty has a hard shell that can take a beating and a large insulated interior divided into two compartments. When it's time for lunch, the lid can be flipped over to work as a lunch tray. The best part of this box is that it comes with its very own insulated vacuum bottle that locks into place on the lid, and the whole thing comes with a lifetime warranty.
Asebbo Waxed Canvas
Made from leather and waxed canvas, this roll top lunch bag is covert as they come. The large main compartment is waterproof and closes by rolling the top closed, while the inside is lined with aluminum to ensure everything stays cool on your commute. A roomy pocket in the backside to store extra items in and it has a durable handle and shoulder strap.
This article was originally published on