Best Lip Balms for Dry, Chapped Lips
Looking for a lip balm? These lip treatments will leave your lips moisturized and soft.
by Donna Freydkin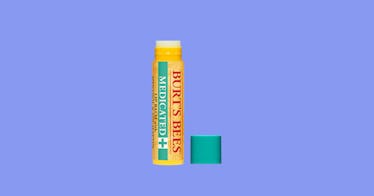 Lip balms belong in your bag, in your jacket, in your pants pocket. Chapped, cracked, peeling lips are a special, painful, and gross hell. Which is why, whether you're out for a jog with your baby on a windy day or trying to keep your lips moist on a trip to the beach, finding the best lip balm for your lips is essential. Perhaps you're on the hunt for a smooth, moisturizing balm guaranteed to heal chapped lips and prevent future flakiness. Maybe you want something with serious SPF to protect your lips when you're out in the sun.
"Lip balms form a seal over the skin to protect the lips from the environment and to enhance hydration," explains New York-based dermatologist Dr. Joshua Zeichner. "Many balms contain combinations of oils and waxes to hydrate the skin. I would suggest that you avoid ingredients like salicylic acid, camphor, menthol, and fragrance as these can cause skin irritation."
See more: Best Sunscreens for Kids
A few things to keep in mind when dealing with chapped lips: Make sure you apply a lubricating balm before you go outside, especially when it's cold out; don't lick your lips, which only dries them out more; and if you have sensitive skin, avoid balms that have fragrances or dyes in them. We've rounded up our favorites to help you kiss chapped lips goodbye.
Pros: The COOLA lip balm is perfect for the beach, because you get SPF 30. It protects and hydrates, and goes on lightly.
Cons: The taste doesn't agree with some customers.
Pros: Imagine being cold and slipping on a cashmere sweater. This is the equivalent when it comes to dry lips. Use it for two days, and you'll see and feel the difference. These lip balms are also petrolatum-free.
Cons: The only thing missing from these lip balms? SPF.
Pros: If your lips need serious help, this Korres winner could be your savior. It's a rich butter formulated with natural oils and is ideally suited for dry lips.
Cons: It goes on shiny, so use as little as possible.
Pros: You get continuous all-day hydration, without any fragrances, flavors, or added colors from this lip balm. It's the basics at its best, thanks to a blend of fatty acids and plant protein-based nutrients.
Cons: The price can be a turn-off.
Pros: The Clark's lip balm goes on without any sticky or greasy residue, and it's totally clear. We appreciate the fact that shea butter and coconut oil are the two main ingredients. In fact, we love the entire product line, because skin seems to to soak it in.
Cons: It has a very faint vanilla-like scent, and some aren't fans of it.
Pros: Anything with SPF in it is a huge pro, because all too often, we forget to protect our mouths. Speaking of mouths, you can smell the different flavors, but the Jack Black balm itself has no taste per se.
Cons: The main ingredient in this lip balm is petroleum jelly, which can be a bit hard to swallow given the price. After all, you can buy Vaseline for a fraction of the cost, granted without the SPF.
Pros: We love this tried and true brand, because its product price belies the quality of its ingredients. In this case, the Burt's Bees lip balm is infused with eucalyptus extract and contains 0.9 percent menthol to help your lips feel less irritated. The relief is temporary, sure, but every little bit helps, and this is one of our to-go products.
Cons: The scent can be a bit heavy for some. And beware that menthol can cause irritation.
Pros: You heal chapped lips, while also getting serious sun protection. The scent is subtle, the flavor almost unnoticeable, and it's not icky or clumpy.
Cons: It can feel tacky or sticky on your lips. And petroleum jelly is the main ingredient, which feels slightly deceptive given the price tag.
Pros: This product goes the extra mile, thanks to its use of cortisone.
Cons: The taste of this lip balm is slightly bitter – no fancy flavors here.
Pros: This lip balm stays on and on and on, making them especially well-suited for ultra-dry lips.
Cons: The tube is slightly large, so it can't be applied with the precision of more typical sized brands.
Pros: Savannah Been Company lip balms are also paraben- and petroleum-free and are infused with sweet almond oil to give chapped lips extra moisture.
Cons: The formula seems to develop a grainy texture after spending a long time in your pocket or purse.
Pros: The Sun Bum formula stays on even when swimming, keeping lips safe from the sun's rays throughout your beach day.
Cons: At around $4 per tube, Sun Bum is a bit pricier than some competing brands.
Every product on Fatherly is independently selected by our editors, writers, and experts. If you click a link on our site and buy something, we may earn an affiliate commission.
This article was originally published on