The 8 Best Laptop Stands for Fixing Your Slouch
Your neck is your friend. Take care of it.
by Emily Kelleher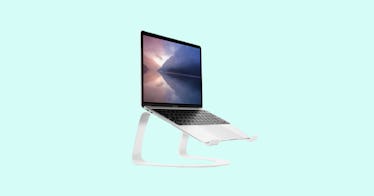 Working from home doesn't have to mean developing back pain and terrible posture. Balancing your laptop on your knees as you sit cross-legged on the couch or hunching over it at a too-low desk aren't doing your body any favors. But you also don't need to invest in bespoke ergonomic furniture. A good laptop stand can help bridge the gap, allowing you to customize your existing furniture to your proportions, making for a much more comfortable WFH setup.
A good laptop stand elevates your computer to a height more conducive to good posture. Some just provide added height, while others are more customizable, allowing you to adjust the height and angle of your laptop for your bed, desk, and any other surface. Some laptop stands are designed to let you use the laptop's built-in keyboard, while others can be used with a separate keyboard. No matter the criteria you're looking for in a laptop stand, a more comfortable workday awaits you.
Every product on Fatherly is independently selected by our editors, writers, and experts. If you click a link on our site and buy something, we may earn an affiliate commission.
This article was originally published on