The Best Kids' Tablets for Remote Learning
With schools moving online, your kid needs a great tablet. Here are our picks.
by Fatherly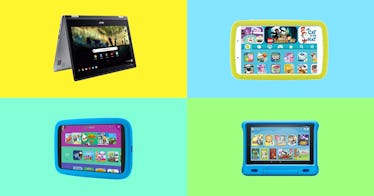 Tablets are a fact of life in most families. They're how we read books, how we get our news, and how we order our groceries. It's also how now, with COVID-19 upending school as we know it, kids are taking part in classroom instruction. The best kids' tablets are portable and easier for them to manage than laptops, especially when it comes to remote learning. Tablet computers for kids should be lightweight, durable, have enough battery life to last an entire school day, and easy access to parental controls so you can filter out unsavory content.
How parents handle screen time is a personal choice for each family. But if you are in the market for a kid-friendly tablet, keep a few things in mind. Make sure it's robust, meaning it won't break the first time your child drops it in the driveway. Ensure that it has parental controls that limit what your kid sees online and how long he spends doing it. Pay attention to battery life: You want something that lasts long enough to be of service during a road trip. And of course, don't invest in something expensive enough that you'll be curled up into a ball when your child cracks the screen. Which will happen.
Every product on Fatherly is independently selected by our editors, writers, and experts. If you click a link on our site and buy something, we may earn an affiliate commission.
This article was originally published on