The Best 'Shark Tank' Products For Kids
For every entrepreneur on Shark Tank whose $1 million idea is a cat-renting service, there is truly innovative products that makes parenting easier.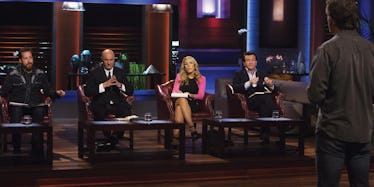 There's no shortage of ridiculous products pitched on the show Shark Tank. Far-fetched ideas that leave viewers shaking their heads as the "inventors" tell the Sharks (who are self-important entrepreneurs like Mark Cuban and Daymond John) how they totally quit their day jobs to bring the world an alarm clock that fries bacon. Which would really compliment the one that makes coffee.
RELATED: The 16 Best Beach Gear to Help Make Your Next Beach Day Go Smoothly
But for every starry-eyed entrepreneur whose million dollar idea is a cat renting service or a surgically implanted Bluetooth headset, there are some actual innovations that can make your life as a parent easier. Here are the best Shark Tank products for kids — all of which you can get (or will soon be able to get) without buying a controlling share in the company.
Buzzy Shot Pain Reducer
No parent wants to see their child suffer (although Gwyneth Paltrow could have made it easier on Apple), especially when it comes to getting shots at the doctor. The Buzzy is a handheld device that uses removable ice wings and vibration to "block" — or at least reduce — the pain that comes from getting stuck with a needle. In non-medical terms, it distracts the body's nerves by overpowering them with other sensations and/or looking like a cute bumblebee or ladybug. The best part is it can also help your adult back pain.
Hatch Baby Smart Changing Pad
Pitched to the Sharks as a way to give nervous new breastfeeding moms peace of mind when it comes to their baby's weight, Hatch Baby is an electronic changing table with a built-in scale that essentially calculates how much milk a baby drinks by weighing them before and after each nursing. From there, it also tracks things like diaper changes, feedings, sleep schedule, and syncs it all on a free app. You know, all the stuff you tried to write down, before succumbing to exhaustion.
ChordBuddy
Ensure your kid's not the one stuck dinging the triangle every day in music class by teaching them how to play the guitar with ChordBuddy. Billed as an "innovative guitar-learning system" (rather than a way to cheat at playing "Smoke on the Water"), it attaches to the neck of most guitars and uses 4 colorful buttons to help teach students the basics of playing chords. Yes, just like Guitar Hero. As they improve, you can start taking away buttons. It also comes with lesson plans and an instructional DVD. Sadly, it does not come with a Slash-style top hat.
EZPZ Happy Mat
There's no reason that these placemats shouldn't be made for adults as well. Not only are the all-in-one plates/bowls 100 percent BPA-free silicone, they're also dishwasher-safe, hypo-allergenic, and don't harbor bacteria (no cracks or crevices). The best feature: They suction to hard surfaces, which makes them damn near impossible to knock over. Your baby just wrote "Challenge accepted" in Cheerios.
KidRunner
You're already a jungle gym, piggyback, and airplane to your baby — why not workhorse? With the KidRunner jogger, it's not a stroller you push but a tiny rickshaw you pull. It rolls along using bicycle-size wheels and uses a flexible bow to dampen the motion of running, so your kid doesn't get seasick. And champion runner Max King won a 10k with this thing on his back, so you know you can make it around the block.
Lollaland Lollacup
Graduating an infant from bottle to sippy cup can lead to some confusion. If only they could grasp the basic principles of suction. Until they do, there's the Lollacup: A 10 oz sippy-straw cup with a flexible, weighted wide-bottom straw that moves like a bell clapper and follows the liquid as the cup is tilted. No drop left behind. It also comes in 6 colors and looks like a chicken — which is fun if you're 9 months old.
Spooner Boards
If "X Games gold medalist" is high on your list of Junior's future accomplishments, a Spooner Board should probably be high on your list of sports gear to start them off with. The multi-functional balance board comes in 3 sizes — Freestyle, Pro, and Yardboard (a full downhill slider). All of them allow riders to slip, slide, and spin around on virtually any type of indoor/outdoor surface, be it carpet or concrete. Spooner Boards also purportedly improve balance, coordination, and motor skills — all those things that get kids into other board sports like skate, surf, and Boogie.
Tie-Not Water Balloon Filler
The key to victory in any water balloon fight often comes down to how fast you can reload. (Also, whether or not you're using any of this heavy artillery.) To ensure your kids don't spend half the battle fumbling with balloons while dodging incoming fire, the Tie-Not's a simple 2-piece device that attaches to the garden hose and can fill/tie off a water balloon in 3 easy steps — or 6 seconds flat with a little practice.
TROBO Robot
Unless you're raising Bill Nye, giving your kid a talking robot that tells stories about science sounds like it'd be great for nap time. But, this cuddly companion is not your average middle school physics teacher. It reads stories on any iOS device (via a Wi-Fi sync) that turn your 2 to 5-year-old (or at least their cartoon avatars) into the main characters. Sure, they're learning science lessons like "How is honey made?" and "What is lightning?" But more importantly, they're inside the iPad!
Tranquilo Soothing Mat
This vibrating portable mat mimics a mother's womb to soothe the baby. With four levels of vibration and two heartbeat modes, it will let your newborn to six-month-old relax. Plus, it has a removable cotton cover that's washable.
Beebo
Beebo is pretty much a cup holder you can strap to your chest. This lightweight device holds a bottle at an adjustable angle, so you can hold and feed your baby with just one hand. You strap it to your shoulder, and the bottle fits into the holder (it works for just about any size bottle). Enjoy your newfound freedom.
SoapSox Wash Mitt, Harper the Hippo
SoapSox are stuffed animals that can go in the tub. Better still, they transform into a scrub mitt. Not a fan of hippos? SoapSoxs come in dolphins, sharks, Disney characters, and more.
Monkey Mat
Lugging around blankets can be annoying. The Monkey Mat folds up into a small 10″ square with a handle, so it can be carried around without a hassle. It folds out to be five-feet and works indoors and outdoors.
SitAlong Toddler Luggage Seat
Invented by a flight attendant and pitched on Shark Tank as an alternative to ride-on toddler luggage, the SitAlong is a lightweight folding chair that attaches to any 20- to 24-inch roller bag and can seat a kid ages 8 months to 50 pounds. Better still, it's got a five-point safety harness and folds flat against the bag so it doesn't need to be removed to stow in the overhead bin.
The Pop Pacifier
Say your baby drops their pacifier on the floor. You have to clean it. Annoying, right? That's not the case with The Pop Pacifier. It's designed so that the part your baby sucks on is held out by the pressure, and then immediately pops back inside the pacifier if it falls out of their mouth. That way, it doesn't pick up germs from the floor. And that way, you don't have to worry about cleaning every time it's dropped.
Want tips, tricks, and advice that you'll actually use? Click here to sign up for our email.
This article was originally published on