The Best Camera for Kids of All Ages & Abilities, According to a Photographer
Five options for kids of all ages, abilities, and interests.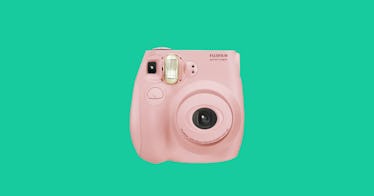 Buying a camera is complicated. You have to think about how you're going to use it, which features are important to you, how much you want to spend, and on and on. And if you're buying a camera for your kid, it can be even trickier to figure out what they need. But photography is a great hobby full of worthwhile technical and creative challenges. So if your kid is asking for a camera (or you think they might like one), it's something to consider. To help you choose the right equipment for your kid, we spoke to professional photographer (and Fatherly visual editor) Anne Meadows to get her advice on what kinds of cameras, from disposables to DSLRs, are great for kids of different ages and ambitions.
Best Camera for Little Kids: Fujifilm One-Time Use 35 mm Camera
If you suspect that your kid might have some interest in photography, a disposable camera isn't a bad place to start. "A disposable camera is a great option for parents who don't want to invest a lot in a hobby that a kid might not take to," Meadows says. She's also a fan of their simplicity. "There are literally only two functions: pressing the shutter button to take the picture and cranking the film advance." This Fujifilm 35 mm camera comes with 27 exposures and is a great way to see if, in the future, investing in a camera that costs more than $8 is worthwhile.
Best Camera for Kids Who Want Instant Gratification: Fujifilm Instax Mini
This Fujifilm instant camera has an attractive shape and comes in colors that are fun without being too juvenile. It creates prints about a quarter of the size of old Polaroids. Meadows says that, for kids used to taking pictures with phones and instantly seeing their work, "The Fujifilm gives you the immediacy of taking a photo on your iPhone and an actual physical item." She also says that, as it has a few more adjustments to make before each shot, it's the next step up from a disposable camera.
Best Camera for Kids Who Want to Capture Their Hobbies: VTech Kidizoom Action Cam
Action cameras are great for kids who already have other hobbies. "If they're into snowboarding or skateboarding or some other outdoor activity it's great to capture the moves they're learning," Meadows says. "It's also a great way to share those things with grandma." VTech makes an action camera designed specifically for kids. It comes with two mounts that let them attach it to skateboards and bikes. It can take standard videos and photos as well as stop-motion videos and time-lapse photos. It's also way cheaper than a professional-level action cam.
Best Camera for Kids Who Want to Document Their Adventures: Fujifilm FinePix XP130
If your kid wants to capture the majestic view from the top of the tree they just climbed, you should consider what Meadows calls a "rough-and-tumble" camera that can survive a good amount of abuse from kids who love the outdoors. This Fujifilm model is waterproof up to 65 feet, shockproof up to 5.8 feet, freezeproof down to 14 degrees Fahrenheit, and sealed against dust and sand. So unless your kid is summiting Everest in her spare time, this thing will be able to take anything they throw at it.
Best Camera for Kids Thinking About Going Pro: Nikon D70
"Once your kid has shown interest in having a visual eye and they want to learn more technical aspects like shutter speed, aperture, and ISO you can get them a very basic prosumer level camera," Meadows says. "They are more delicate, so they might be for older kids who are clearly more passionate and have a sense of ownership and taking care of something." The bottom line: these cameras are about crafting an image more than just pressing the shutter button.
You don't have to get a pricey brand-new model either. Meadows herself learned on a Nikon D70, which cost $999 when it was released in 2004, but is available used for a fraction of that price today. While it's obviously not a top of the line model, it does give kids who are serious about photography a control over their photos that they need to develop.
This article was originally published on