Best James Bond Gifts For Cool Dads
It doesn't matter if these gifts are for Father's Day or just because. Any dad who loves 007 will be shaken, stirred and happy.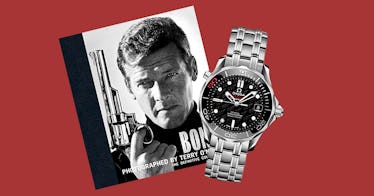 It's no secret that a lot of dads love Bond. Father of two, and the incumbent CIA agent Felix Leiter, Jeffrey Wright, recently doubled-down on his Bond fandom saying "The way this thing [Bond] has been managed over time is unique." And he's not alone in this assessment. Dads all over the world have found something to love about the utterly ridiculously exploits of James Bond, which is probably partially connected to the fact that Bond tells the best Dad Joke puns of all time.
Whether you're shopping for a last-minute Father's Day present, just getting a dad a gift for fun, or you're a guy who wants to treat yourself to some 007 swag, here's some cool Bond stuff to snag, that might not be on your spy radar.
James Bond Book Cover Shirts From Out of Print Clothing
The cool people over at Out of Print specialize in making cool retro t-shirts adorned with art from old books. Recently they added some very '80s Stephen King t-shirts, but their James Bond shirts are worth checking out, too. These aren't the kind of shirts you'll find anywhere else!
Check out all the James Bond book shirts at Out of Print here.
You can also snag this watch directly from Timex, right here.
This article was originally published on