The Best Stainless Steel Water Bottles To Keep You Hydrated
They don't leak and keep liquids ice cold.
by Donna Freydkin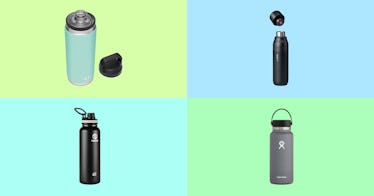 A big part of staying healthy is staying hydrated, but what's best for you isn't always best for the planet. Enter: the stainless steel water bottle. The best stainless steel water bottles are easy to clean, don't leak, and keep your water (or beer) gloriously chilled. Standout metal water bottles can last for years, are 100 percent recyclable, and, of course, BPA-free. Investing in one can even pad your bank account; by some estimates, foregoing disposable plastic bottles can save you about $3,000 a year.
Americans reportedly toss more than 2.5 million plastic bottles an hour (that's about 700 a second) — a plastic Everest, or several, that could take more than five centuries to decompose. So switching to insulated water bottles is a small decision with a huge positive impact.
You want your insulated water bottles to be durable, easy to clean, and leak-proof. Because a soaked backpack can put a damper on a day of hiking. Also key is finding an insulated water bottle that doesn't retain flavors. Coffee-flavored water just doesn't sound all that refreshing.
"You should get something in the 20 to 24 ounce range," says outdoors expert Bryan Rogala. "Stainless-steel is best because it doesn't get funky if you throw in a hydration-mix tablet, and for me it holds up longer than aluminum bottles. You also don't get any off-flavors in your water."
The best-quality insulated bottles don't sweat, meaning there's no condensation on the outside of the bottle or a small puddle of liquid underneath it. And the true winners won't leak a single drop, though most leaks are the result of user error.
Some bottles are trickier than others to clean, so make sure you always follow the manufacturer's recommendations. These are the best stainless steel waterbottles for hiking and everyday use based on personal experience, Amazon's top sellers, and user reviews.
Every product on Fatherly is independently selected by our editors, writers, and experts. If you click a link on our site and buy something, we may earn an affiliate commission.
This article was originally published on