The Best Inflatable Bumper Balls For Kids Who Want To Smash Into Each Other
Slipped into these rubber orbs, kids can crash into one another with abandon.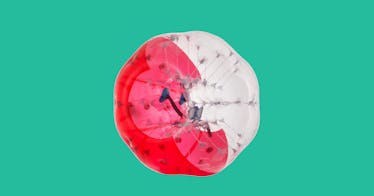 Remember Sock'em Boppers? The inflatable gloves were super popular in the 1990s because kids loved whacking each other with reckless abandon. They were fun way to roughhouse without much collateral damage. Bumper Balls use a similar concept, but for the entire body. These inflatable balls that you can slip into let kids crash into each other with the same reckless abandon and minimal risk of injury, as they're safely ensconced in a cocoon of an inflated PVC bubble. Here are our picks for the best bumper balls you can buy.
Banzai Bump n' Bounce Body Bumpers
Fans of alteration and saving money will enjoy this option from Banzai, the same company that makes some of our favorite inflatable water toys. This two-pack (one red, one blue) comes at a very low price in part because a pump is not included. If you're not sure you kids want bumper balls, this item is an inexpensive way to gauge their interest.
Anchor Inflatable Bumper Bubble
This product is made of 0.8mm-thick PVC that is non-toxic and odorless. Its seven fasteners keep the wearer secure, and it's easy to put it away.The Ancheer bumper bubble deflates with a non-included air pump in 1-2 minutes. You even have eight different colors to choose form so your kids can run into each other in still.
Zuru X-Shot Super Durable human Bubble Ball
What sets this ball apart is how high it sits. The other options go around your waist, but the Zuru actually wraps around your upper torso. It engulfs your head, necessitating looking through the clear section of your bubble to see your opponent(s). It inflates to a four-foot size, which means it fits most kids For a price this competitive, it's unsurprising than no pump, electric or otherwise, is included.
Garybank Bubble Soccer Ball
This ball is a bit larger, at five feet in diameter, and it's more spacious inner chamber makes it a actually fits adults. If its 0.8 mm PVC does tear or rip, you can use the included repair materials to patch the hole and get hours more use out of your purchase. A $50 pump is sold separately, but if you have a pump at home already you shouldn't need to buy a special model.
Popsport Inflatable Bumper Ball
This model from Popsport comes in a variety of colors, patterns, and sizes and quantities. You also have the option of ordering a one- or two-pack (at a discount). It doesn't come with an air pump, but Popsport claims that a standard electric pump can inflate the ball in 90 seconds. The clear, five foot diameter model is a hundred bucks, but the price you pay will be different if you choose different options.