The Best Backyard Water Slides for Kids
Save yourself a drive to the water park.
by James Wohr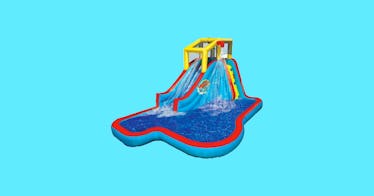 If you want to win summer, you need to spring for a gargantuan backyard kids' water slide. A great inflatable slide combines all the pizzazz of a bounce house with the cooling power of a water park. Even the good old slick lawn slide transforms a humble, demure lawn and into a magical place of water-park thrills — for a fraction of what you'd pay to hit an actual one. And of course, throw in a quality water blaster and sprinkler for good measure because there's no such thing as getting too wet.
As any enterprising parent with a tarp and a sprinkler knows, you don't need a beach, stock tank, or pool built out of a shipping container to keep the kids cool and entertained. You just need a patch of grass and some running water for the aforementioned slides. You want to find water slides that are durable, and easy to inflate, deflate, and store. Make sure you pay attention to weight and size limits, and if possible, opt for ones on the higher end so they last longer. And it goes without saying that young(er) kids need to be supervised while climbing and sliding.
The Best Backyard Water Slides
Every product on Fatherly is independently selected by our editors, writers, and experts. If you click a link on our site and buy something, we may earn an affiliate commission.