This Cheap Printer Makes Life Easier for Housebound Families
It's smart and simple to use. But, most importantly, the all-in-one model is wildly efficient: its ink supply will last for roughly a year.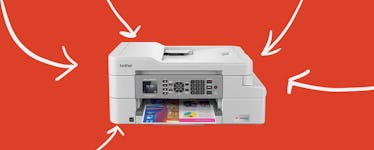 Working from home forces you to reckon with how tethered you are to office life. For me, that reckoning became clearest when I scrounged around for supplies, of which I had very few. Why would I? Why buy pens or Post-Its when I could yank a few here or there from the office? But now, working from home, I realized I needed all of these things. And I needed one piece of equipment most direly: a home printer.
In the Before Times, I printed out everything the way every American printed out things: I mailed myself pdfs and then used the gargantuan printer at my office. What a simpler time that was. Unable to do that, I turned to my dusty home printer, which I realized was nothing but an ink-guzzling, paper-eating waste of shelf space. Since I had a wild pile of documents to print, scan, and copy now, I bit the bullet and purchased a Brother MFC-J805DW INKvestment Tank. Let me tell you: It is the best home printer I've ever owned.
Okay, that's not a very high bar to hop over. But this printer has shown me what a great modern printer can do. It's fast, efficient (the ink it comes with is good for about a year), can wirelessly print from a range of devices, and is compact enough that I didn't need to re-design my space to accommodate it. It also costs less than $200.
Let's talk basics. The Brother MFC-J805DW is as compact as a small stack of coffee table books. It measures 17 inches long and about 8 inches high. It can print, copy, scan, and fax. There's a nice-sized color touch screen to guide you through its commands, it connects wireless to a variety of devices, and can one-to-one connect with a computer via USB. It holds 150 pieces of paper, can manage up to size A4 sheets, and has a document feeder that can hold up to 20 sheets. It prints in both black-and-white and color.
There are several nice intuitive features that take the pains away from normal printing. First among them: There's no need to play another panicky round of How much ink does it have left? The printer's Page Gauge feature constantly monitors ink expenditure and displays a running estimate of how many pages you can print before it running out of ink. Translation? No cursing the next time you need to print out a cover letter and only half of the text appears. Brother's "INKvestment" tank and cartridge system holds enough ink for roughly a year of printing without needing a replacement. (The company claims that this brings the cost of printing to less than five cents a page).
As I already mentioned, the printer wirelessly connects to your devices, making it extremely easy to print from phones, tablets, and laptops but also scan documents to them. In the month and a half I've had the Brother MFC-J805DW, I haven't had a single connectivity issue. Modern printers should all do this; this one does it seamlessly.
Perhaps I'm in the honeymoon phase, smitten by all the dewy newness of our relationship. But something tells me this is a real-deal relationship. I want to grow old with this printer. I want it by my side, spitting out my important documents through the years.
All kidding aside, the Brother MFC-J805DW INKvestment Tank is a great home printer for any time, but especially our current quarantined one. For home-schooling parents, who are not only working from home but have to print out reams of curriculums, activity sheets, answer sheets, work sheets, and everything else, it's an excellent ally that's up to the task. I can tell you it's made my life easier. That's a small thing, but right now the small things matter.
This article was originally published on