The Best Baby High Chairs for Mess-Free Family Meals
It's your kid's dinnertime throne.
by Aaron Stern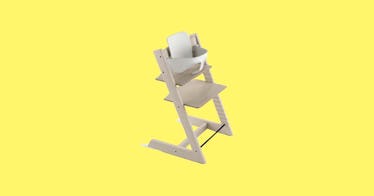 A high chair is the baby's throne — a high point from which to survey their kingdom and to practice the mastery of new skills. The baby high chair is where children learn the foundations of basic table manners and start exploring the colorful, delicious and nutritious array of solid food before them. It's the place where meals are consumed, thrown, and sometimes worn on the head. An easy to clean high chair transforms messy mealtimes into a series of hilarious discoveries and wonderful moments, like feeding your baby a lemon or watching them try bacon for the first time or presenting them with that little delicacy called a birthday cake.s
But before you buy a high chair, keep a few things top of mind. According to the American Academy of Pediatrics, falls are the biggest dangers associated with high chairs. So when shopping for one, choose one with a wide base that won't easily tip over. If you get a high chair that folds, ensure that the locking device is always secure when you unfold the chair.
Always, and we do mean always, strap your kid into his or her high chair. And position it so it's away from the kitchen counter, so kiddos don't push at it and tip themselves over. If you use a high chair that hooks onto a table, make sure the chair locks securely onto the table and can support the weight of the child.
You should also note that most high chairs are meant to be used only until your child weighs about 50 pounds (or is 3 years old). In terms of design, it helps to have one with a washable tray, and adjustable chair heights so you can use it longer.
Unfortunately high chairs serve essentially one purpose: house your baby safely during meal time for just a few years. That's why picking one can feel tedious. We searched high and low for the high chairs that are best for parents: Ones that can fold up, are easy to get set up, and are equipped with machin-washable fabric, dishwasher safe tops, and most important, can grow with your baby. Here are our picks.
The Best Easy to Clean Baby High Chairs
Every product on Fatherly is independently selected by our editors, writers, and experts. If you click a link on our site and buy something, we may earn an affiliate commission.
This article was originally published on