8 Great Halloween Buckets & Bags That Can Handle a Major Candy Payload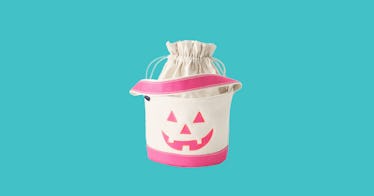 Don't neglect the importance of the Halloween candy bucket. No matter which Halloween costume your kid chooses this year, be it Wonder Woman or a bloodied monster, they'll likely have one goal on October 31: securing a massive haul of candy. And without the right bucket to carry that payload in, they won't get far. This year, send them trick or treating with a candy bucket that is easy to carry and strong enough to hold even the heaviest treat loads. Like one of these eight buckets.
Hyde and Eek! Halloween Trick or Treat Pail
Maybe the second most popular candy receptacle after a pillowcase is the classic plastic jack-o'-lantern. This one is 16 inches wide and a foot tall with a secure plastic handle and toothy visage. If your kids want more of a Tim Burton vibe, it's available in black and white, but we prefer the timeless orange and black version.
Light Up Monster Puffy Treat Bag
This felt version of Frankenstein's monster has some nice details: forehead stitches, ears that stick out and a mop of black hair. But its coolest feature is the bolts, located just below the ears, that contain battery-powered LED lights. They'll look awesome walking around the neighborhood at night.
T-Rex Treat Bag
If your kids love dinosaurs and don't mind carrying a disembodied dino head, this is the bag for them. Kids can stash candy inside the mouth of a super soft, polyester velour T. Rex.
Light Up Jack-O'-Lantern Halloween Candy Bucket
This nine inch-wide, seven inch-tall bucket has a standard jack-o'-lantern design. The killer feature here is the LED light, which can be put into constant mode to help light the way or flashing mode to make your kid more visible to cars.
Glow-in-the-Dark Halloween Tote
Lands' End tote bags are known for their durable, all-canvas construction and monogrammability. This Halloween-themed version is no different. It's available in three different designs, all of which feature glow-in-the-dark facial features, a drawstring closure that can handle an overflowing amount of candy and a thick handle they'll be thankful for at the end of a long night of trick or treating.
Evidence Trick-or-Treat Bag
This canvas bag is decorated with a mock evidence collection form, so it's a great choice for a kid wearing a police officer or detective costume. It's pretty big, at 15 inches tall and over a foot wide, so it can also hold a sizable candy haul.
Mickey Mouse Trick or Treat Bag
This felt bag features a Mickey Mouse jack-o'-lantern face. Mickey has a glow-in-the-dark, spooked facial expression and spider designs on each of his ears, along with a reinforced carry handle. If your kid is more of a Minnie fan, don't worry: it's also available with a winking version of Mickey's significant other.
Snoopy Pillowcase Treat Bag
The design of this cotton bag is a nod to the pillowcases many of us grew up using on Halloween. It adds a collage of drawings of the Peanuts gang in various Halloween outfits and, mercifully, a handle that makes it much easier to carry than an actual pillowcase.
This article was originally published on