Skip the Barber: These are the Best Hair Clippers for Men
Get that damn hair under control.
by Kaitlyn McInnis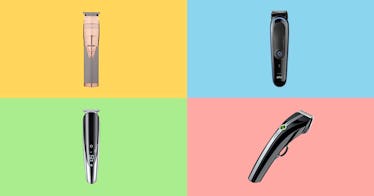 The best men's hair clippers should be a key part of your dopp kit. Yes, of course you can go to your local barber to get things under control when needed, and when a barber is a safe option. But hair trimmers for men are specifically designed to keep you looking less like the explosively hirsute Tormund Giantsbane and more like a meticulously trimmed Robert Downey Jr. And that's the goal here, regardless of whether your hairstyle is short, long, bald or somewhere in between.
Although hair clippers may look quite similar to the beard trimmer or electric razor that you probably already have somewhere in your bathroom, their function is vastly different. Clippers come equipped with blades that resemble something like a comb, which are designed to help you trim your hair to the exact length you want, which makes it much easier when working with longer hairstyles.
While most sets of hair clippers look similar enough to what your barber uses, there are a few very important factors to keep in mind when shopping for the best clippers to add to your dopp kit. Read the packaging carefully and take extra care to select stainless steel blades and a good motor (the rotary motor is a favorite among barbers — but a magnetic motor will work for at-home jobs). Also take time to consider whether you want cord or cordless — will you really remember to put your clippers on the charger after you use them?
Whether cord or cordless, magnetic motor or rotary motor, here are a handful of the best hair clippers for men – for every budget, beard and hairstyle.
The Best All-Around Men's Hair Clippers
The Best Men's Hair Clippers for Precision Work
The Most Tricked-Out Men's Hair Clippers
The Best Men's Hair Clipper for Thick Hair
The Best Cordless Men's Hair Clippers
Every product on Fatherly is independently selected by our editors, writers, and experts. If you click a link on our site and buy something, we may earn an affiliate commission.