The Best Gifts for 14-Year-Olds
The days of your kids wanting unicorn and ninja junk have been replaced with an appreciation for things you recognize as cool. Happy shopping.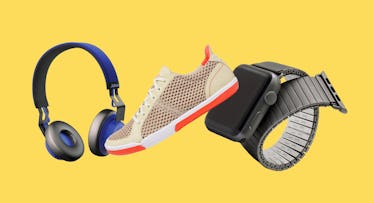 Good news for parents of teenagers: At around 14, for perhaps the first time in their lives, your kid's taste and your own line up. That's not exactly true, of course (just look the other way when it comes to YouTube channels or social media memes), but when it comes to stuff they want, you're more closely aligned than ever. Even the toys they loved at age 12 seem like a distant memory, and the days of wanting unicorn and ninja junk have been replaced with an appreciation for things you recognize as cool — like a nice futon or a cool pair of kicks. That's one thing to look forward to on your kid's 14th birthday. Happy shopping.
Sunski Recycled Plastics Sunglasses
Chances are, your eighth-grader has given you a lecture or two about the environment. These recycled plastic frames come from a mission-oriented company that also donates 1% of sales to environmental nonprofits. Available in a slew of looks and colors, they come with a lifetime warranty, too.
CouchBed
Sleepovers or study sessions just got a boost with this memory foam mattress bed that doubles as a comfy lounge sofa. Great for their basement workspace or the playroom turned teens-only-zone (time flies, huh?), it comes with washable covers to make cleanup a cinch.
Send Ribbon Birthday Bag
This sweet grab bag of birthday essentials — confetti balloons, candles, a cake bath bomb, and more — gives recipients another reason to smile: Proceeds from each gift you buy go to the Birthday Party Project, a nonprofit that throws birthday parties for homeless youth.
PLAE Prospect Shoes
For the sneaker trendspotter in your life, gift 'em these stylish kicks that are bound to ignite envy around the hallowed halls of junior high. Crafted with a built-in elastic lace-catcher to save your youngster from tripping, the shoes are made in a solar-powered fair-labor factory.
CanvasPop Personalized Photo Magnets
All you have to do is comb through their Instagram feed (they let you follow them, right?), upload some highlights, and voilà, your child's gift will be on the way. In a few short years, you'll be slapping them on a dorm room fridge.
Amped & Co's Vintage Lightbox
You know all too well how often your teen's mood changes. Thankfully, this cinematic light box set comes with 140 letters, numbers, and character tiles to switch up messages as often as necessary. With a vintage faux wood shell, the lightbox makes for a great addition to your teen's desk or bedroom.
Speidel Twist-O-Flex for the Apple Watch
Your Apple Watch-obsessed teen will dig this super comfortable band that bends for a snug and secure fit. Available in brushed stainless, satin black, and silver aluminum, the sleek upgrade makes their smartwatch ready for a formal affair or first date (sigh).
[$80; speidel.com]
Jabra Move Wireless Headphones
From long battery life (up to eight hours with 12 days of standby power) and music and call control directly from the headphones, your teen will get a lot of neat features for under a Franklin. Bonus: The ultra-light headband means they're extra comfortable for kids.
No Prob-llama Throw Pillow
Sorry, unicorns. Llamas are on their way to replacing the omnipresent mythical creature. This cheeky pillow is "as soft and comfortable as an alpaca full of marshmallows" and comes with the design printed on both sides.
FITS Light Hiker Crew (Teton)
Does your son or daughter love hiking? Pick up a few pairs of these socks and throw in a trail map with the dates you'll be taking him or her out for an adventure penned into the margin. The "Light Hiker" is FITS most popular hiking sock, and with good reason — they're beasts at absorbing moisture and cushioned under the foot to hold up to extended use.
Every product on Fatherly is independently selected by our editors, writers, and experts. If you click a link on our site and buy something, we may earn an affiliate commission.
This article was originally published on