The Best Garage Storage Systems, According to a Professional Organizer
The garage doesn't have to be a magnet for clutter.
by Hudson Lindenberger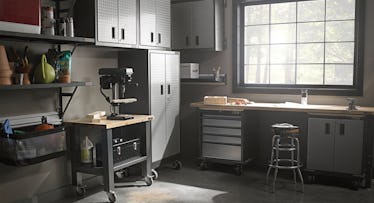 They might be designed for cars but people use their garages for a million different things. Some turn them into workshops. Others build home gyms or convert them into extra bedrooms. But regardless of whether they house a Camry or table saw, a rowing machine or bunk bed, there is one thing most garages have in common: They are a magnet for clutter. Eventually, especially if the house doesn't have a basement, they'll be filled with all the stuff that no longer fits in the house ⏤ and they'll be a total mess.
It doesn't have to be that way. You can keep your garage orderly and functional with a proper organizational system. Everything can have a place and be easily found. But how do you go about building something to either address a space problem you already have, or one that will arise in the future? That's a question we asked Master Cruz, a professional organizer and the owner of Master Organizing.
"You need to first decide what your priorities are when looking at your garage," says Cruz. "What do you want to use it for? Then you build a system around that." She adds: "Look at what you need to store, the space you have to put it in, and what you think will be coming down the pipeline in the next few years. Put the stuff you need frequent access to in the most convenient locations, where you can easily get to them, and store other items you might only need occasionally, or seasonally, up high or down low."
Once you get a system in place, Cruz recommends introducing it to the entire family. Make sure everyone knows where items are and, more importantly, where they go when they are finished with them. "Just remember that basements and garages are Black Holes where everything that doesn't have a place gets dumped," says Cruz. "Get ahead of the problem by clearly labeling where stuff goes, and not allowing things to just get tossed anywhere. Even the smallest of spaces can have a use if you design it." And with that in mind, here are the eight garage storage solutions Cruz recommends to her clients to address different needs and space issues.
For The Whole Garage: The Elfa System
The Elfa system from the Container Store is the best solution for an entire garage. "I love Elfa because it is totally customizable and is simple to change as time progresses," says Cruz. "As the family grows and interests change, you can adjust priorities simply and easily. " All of the shelves, drawers, hooks, and other parts of this system hang from a horizontal upper track that is firmly mounted into the wall. All you have to do is decide where you want things placed, and you hang the vertical bars from the top track and build away ⏤ it's like the Swiss Army knife of garage organization. The best part is that one of their professionals will help you design a system free of charge after you input the size of your garage into their online system.
For Around the Car: Gladiator
If you value your car in any way, you're probably not a big fan of having tools and equipment in close proximity ready to ding it up. Gladiator offers a selection of gearboxes and lockers that hold gardening supplies, camping gear, and tools safely behind latching doors. "These industrial-style cabinets look awesome in any garage, but especially ones that have nice motorcycles and cars inside them," says Cruz. All of the boxes are constructed from welded steel and come preassembled ⏤ simply decide which ones you want and where to place them. They range in price from $180 to $550.
For Long-Term Storage: Monkey Bars Storage
One of the rules to follow when organizing your garage, according to Cruz, is to put items you don't need that often overhead and out of the way. That's where these overhead racks from Monkey Bars come in. "Most people don't realize how much storage space they have over their heads in a garage," says Cruz. "You can stash holiday items, seasonal stuff, luggage, and keepsakes inside plastic totes up high to pull down when you need them. It's an elegant way to store stuff." The shelves hang from the ceiling anchored by a multi-truss system and can handle 750 pounds, although you can also anchor them into the wall to increase their load capacity to 1,000 pounds. They are open from all sides so access is easy, plus their two-inch lip keeps items securely in place.
For Bikes: Delta Cycle Michelangelo Canaletto Stand
For families with a lot of bikes, Cruz loves Delta Cycle's Michelangelo Canaletto Stand. "I use this rack in numerous homes," she says. "It's easy to build and put up, simple to move, and does not have a ton of parts to deal with." Each rack can handle two bikes that hang from a set of gravity hooks. Adjusting them is simple, you just put the hanging hooks at the height you need them and let the bike's weight hold them in place. Best of all, it does not need to be anchored into the wall — rubber bumpers on the back and feet hold it in place — so cleaning around it is simple and you can move as needed.
For Small/Medium-Sized Space: Seville Classics 16-Bin Rack
The Seville comes with 16 polypropylene bins (4 XL and 12 L) that are designed specifically for the rack. You get to decide where to put them on the industrial strength steel-wire shelves, and then you can use the enclosed labels (24 of them) to create a storage system by designating where things go in each bin. "I have seen this rack used for so many different things: film equipment storage, sports gear, you name it'" says Cruz. "It just allows you to get super organized in a pretty small space." One of the best features according to Cruz is that it can be moved when cleaning, so nothing can accumulate under it.
For Shoes and Such: Blue Hawk Plastic Bins
Not every storage solution has to be intricate; sometimes the simplest systems work best. That's why Cruz recommends these stackable plastic bins from Blue Hawk. "These cheap bins work perfectly for storing items that fill up shelves like shoes, gardening tools, and toys. You can stack several of them up and label each one with what goes into it. Problem solved." And at only 19-inches tall, you can stack several of them to make a small floor space hold a lot of stuff. Another benefit is they are easy to transport.
For Bits and Bolts: Akro-Mils Hardware Cabinet
For the hundreds of little items that end up on shelves in tin cans, broken boxes, and plastic bags, this compact storage bin offers the chance to finally find a home for everything. It features 12 larger and 32 smaller drawers that create a system for storing everything neatly and easily. Each drawer is almost six-inches deep and the clear plastic allows you to see what's inside. "This is perfect for anything small from fishing lures to crafting items," says Cruz. "You can label each bin and save your self the frustration of digging around the next time you need that perfect screw or such." It can be mounted on the wall or stacked.
For Tools: WEN 6 Drawer Rolling Tool Cabinet
The classic tool cabinet, beloved by Dad's for generations, really is the best way to safely store tools in your garage. Cruz loves this one from WEN because it has sturdy wheels to move around the room, is constructed from 19-gauge steel to take a beating, and the six ball-bearing slide drawers that at 18-inches deep can hold a ton of tools. "This is great for a car garage or one with a shop in it. It allows you to keep your expensive and sometimes dangerous tools away from little hands with its sturdy lock."
Every product on Fatherly is independently selected by our editors, writers, and experts. If you click a link on our site and buy something, we may earn an affiliate commission.
This article was originally published on