The Best Gaming Mouse for Video Gamers
Whether you're a beginner or an aspiring esports pro, the best gaming mouse for you is on this list.
by Jon Gugala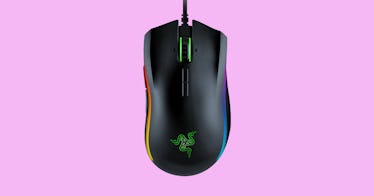 While there's tons of fun to be had on video game consoles, it's hard to beat PC gaming for complexity and fun. But to master the latest PC video games it's important to have the best gaming mouse you can get, as you'll find the two-button model you use for everyday tasks woefully insufficient. The best gaming mice have much more to offer.
Before buying a gaming mouse, determine your grip style, the types of games you play to make sure the mouse has the features you need, and the way you move your mouse around (whether in long or short motions). Then, choose a gaming mouse that feels right and has all the buttons and extra functionalities you need.
The land of gaming mice can get kind of complicated, but the best gaming mice have high dots-per-inch, or dpi, a term borrowed from printing days that basically describes how sensitive the mouse is to fine movements. The higher the number, the better at capturing them and translating them to in-game actions. Whether you're willing to spend a little or a lot, dpi is easy to upgrade.
Here are some of our favorites when it comes to picking the best gaming mouse.
Pros: Just reading off its stats—seven programmable buttons, a 5G optical sensor, and chroma RGB customizable lighting—does little to emphasize the precision performance of this highly specialized mouse. A whopping 16,000 dpi and a 450-per-second tracking deliver instant response and Pentagon-level accuracy.
Cons: The company has a reputation for asking a lot from its customers: "Seriously, why do I have to create a user account with Razer just to use my mouse? It's ridiculous," wrote one Amazon reviewer. For the private gamer, the bloat may be too much to ask.
Pros: With a maximum 7,200 dpi, this gaming mouse can allow you the precision to shoot the wings off a pixilated fly. But thanks to a toggle button, you can have a backup, slower dpi easily accessible for when slight movements aren't as necessary. Demanding gamers will also appreciate seven programmable buttons.
Cons: Mac gamers, look elsewhere: Pictek has designed this for PC users only. In our evaluation, if it were usable with both systems, it would never be this cheap—it's just too good for the price.
Pros: At a max 2,500 dpi, this gaming mouse still has plenty of control with five settings, and it ensures zero lag with a 2.4 GHz wireless system. It also includes 11 programmable buttons. But one of the things that impressed us most was multiple usage modes. With a max game duration of 250 hours, it also has an endurance mode, which quadruples its battery life. This is perfect for those that want a mouse for both gaming and browsing.
Cons: While zero lag is by and large accurate, to get that zero lag, the device's corded receiver must be super close. Also, with two AA batteries (admittedly good for around 250 hours), you add weight, which some players may not prefer.
Pros: Lag-free gaming either wired or wireless. A 30-hour rechargeable battery for marathon sessions and zero late-night trips to buy AAs. A 200- to 12,000-dpi optical sensor. There's a lot to love here, without even bringing up the fact that its ambidextrous design allows lefties to use it with minimal hassle. And then there's the price: a screaming good deal more than half off.
Cons: Macs not welcome here, as Apple compatibility is a figment of the imagination. It breaks our hearts, as this is nearly perfect. Still, if you're a PC user, this mouse is so cheap it's practically stealing.
Pros: The split trigger buttons on each side of the mouse have mechnical switches that are guaranteed to last 50 million clicks — that's a lot of esports. And when you adjust the settings on your mouse they're saved on the unit itself so you don't have to readjust everything if you use it on another machine.
Cons: The silicone grips can feel mushy and retain heat, so they may not be the best for marathon gaming sessions.
Pros: The wired M601 features a 3,200-dpi sensor for fine movements that translate to better gameplay, while an eight-piece weight-tuning set allows you to perfect your ideal handfeel. Five programmable buttons ensures a tailored experience for your game of the day, and five memory modes makes switching between games (or other users) no hassle.
Cons: While this mouse is a step up from your track pad, it nevertheless doesn't have nearly the speed and precision of others on this list—and likely many of your opponents. While this is a beginning for a better gaming life, it's by no means its end.
Pros: What jumped out to us was the anodized aluminum body of the M65—a strong contrast to the ABS plastic used in most other mice. Aluminum, besides resisting tarnishing, is super rugged while staying featherlight. That protection is necessary, as under the hood rides a 18,000-dpi engine (adjustable in one-dpi increments). We also loved the Tunable Weight System, which allows the user to set the center of gravity based on preference. Bonus: A "Sniper" button allows on-demand reduction of dpi for fine movements, including zeroing in on the kill shot.
Cons: With all that metal comes added weight, and while you can adjust the dispersion of it, for some, the heft will simply be too much. But that's reaching. Bottom line, it's hard to find fault in this mouse, and Amazon reviewers concur.
Pros: A lightning-fast 16,000 dpi 5G optical sensor—a necessity for elite instead of the lower-end laser sensors—and a max 450-inches-per-second capture speed allow for quick defenses and perfectly executed ambushes. Nine programmable buttons? Oh, yes. But the greatest strength is its seamless integration with the company's keyboards, headphones, and mouse mats, which you'll find the world over.
Cons: You have got to be a serious gamer to come close to needing this mouse's performance. Are you that serious? If you're just playing with your buddies from college, this is overkill.
Every product on Fatherly is independently selected by our editors, writers, and experts. If you click a link on our site and buy something, we may earn an affiliate commission.
This article was originally published on