The Best Fingerlings Playsets For Letting Those Baby Monkeys Hang Around
Because there's not always an available finger to cling to.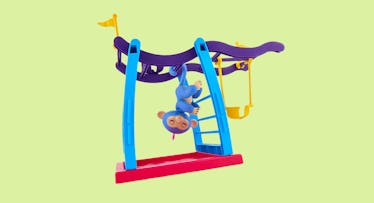 Fingerlings took the 2017 holiday season by storm. And, well, the squall doesn't seem to be stopping anytime soon. This year, WowWee, the creator of the massively popular baby animals that cling to fingers, make noises and react to sound, motion, and touch (they have more than 40 different reactions, including, yes, burps and farts) introduced a dinosaur, unicorn, and a large stuffed animal version called the Fingerlings Hugs. And because all these Fingerlings need a place to hang out when they're not hooked around a child's finger, there are also number of accessories and playsets that can be purchased for them, from Jungle Gyms to Monkey Bars. While WowWee makes their own, other companies have gotten into the (unlicensed) game. In case your kids want a Fingerlings-themed birthday gift or holiday gift, here's what to know about the available Fingerlings accessories before you buy.
The Fingerlings Accessories, Games, and Playsets Made By WowWee
As we said, WowWee Toys, the maker of Fingerlings, makes a limited range of accessories. These are products that provide the unicorns, dinosaurs, monkeys, and other characters with a structure on which they can climb when a finger is not available. There's also a board game to feed the Fingerlings frenzy.
WowWee Fingerlings Jungle Gym Playset
This purple jungle gym is one foot tall. It's a pretty simple structure, but there are a lot of places for Fingerlings to grab onto. They can also hang by their tails from the top bar, as one side of the gym is clear of bars and thus allows them to swing freely. The playset also comes with Aimee, a coral pink monkey with blue hair that is exclusive to the set.
WowWee Fingerlings Monkey Bar Playset
The term "monkey bar" has never been so literal. Kids can have their Fingerlings climb the ladder, swing from the bars, or sit in the included swing (there's a special cutout for their tails). One edition of this playset comes with Liv, a blue monkey with pink hair, while another comes with Liv and Simona, whose color is described as "bubblegum pink." Both are exclusive to the monkey bar playset.
WowWee Fingerlings See-Saw Playset
Kids can put a Fingerling on each side of the teeter-totter and use the hand crank to sway them back and forth. Because there's nothing sadder than a half empty see-saw, this set comes with two different exclusive Fingerlings. Milly is a purple monkey with blue hair and Willy is a blue monkey with purple hair.
WowWee Fingerlings Jungle Gym Jumble Game
Because it doesn't use actual Fingerlings, this board game is less of an accessory and more of a spin-off. The 2-4 player game is pretty simple. Roll a die and move around he board, collecting construction pieces that assemble into a jungle gym. The winner is the first player to hang their Fingerling-inspired monkey game piece atop the highest bar on the highest jungle gym twice without knocking the gym over.
The Fingerlings Accessories, Playsets, and Games Not Made By WowWee
Shop at your own risk here: because these are unofficial items, they aren't necessarily built to the same standards as Fingerlings and official Fingerlings accessories. We highly recommend reading the reviews and checking the return policy before you pull the trigger on any unlicensed Fingerling gear. Still, if you're looking for something different, it's good to know what's out there.
TwitterPlaza 3-in-1 Seesaw Climbing Stand
This 3-pack of toys should look awfully familiar to anyone who's seen the official Fingerlings playsets. If you're looking to save money, this is a much better deal, as all three of the toys in this set cost less than one official Fingerlings playset. Of course, being cheaper might just mean that they're made cheaply. You can also find them packaged and priced individually.
FanXing Baby Monkey Toy Stent
This is more of a Fingerlings-compatible building kit than a Fingerlings accessory. Kids can use the rods to construct everything from chairs their Fingerlings can sit on to a Ferris wheel they can hang off of.
ibarra Monkey Glam 18-Piece Party Pack
This set of clothing includes nine reversible tutus and nine headbands, all in different colors and patterns from polka dots to florals to solids. If you kids like dressing up their other dolls, they'll love mixing and matching the tutus and headbands to create new outfits.
Garmaker Finger Monkey Clothes
Your kids can keep their Fingerlings warm with this five-pack of mini plush sweaters for their Fingerlings. They secure with Velcro in the back for easy switching.
Monkey Tree
We like this option because it lets your kids store and display their Fingerling collection. There are ample places for their monkeys to hang upside down and hold on with their hands.
This article was originally published on