The Best Father's Day Gift Ideas for New Dads
From legitimately exciting baby carriers (seriously!) to awesome new headphones, here are the gifts that new dads really could use this Father's Day.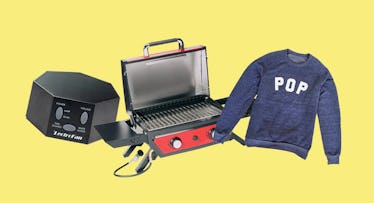 Becoming a new dad is amazing and inspiring and, frankly, pretty exhausting. It takes some adjustment, some sanity checks, and creature comforts. We can't give you all that, but there is a lot of sweet gear that gets close. From legitimately exciting baby carriers to awesome new headphones, here are the gifts that new dads really could use this Father's Day. Celebrate them, but also, give them a little help in their new journey.
To Help a New Dad Take Care of the Kid
Baby K'tan Active Carrier
Baby wraps are a great way to bring your infant along when you need to get out of the house, but they tend be a little complicated. The K'tan Active Carrier is a simple and comfortable alternative. Just slip it on over your head, put your little one in, and you are both ready to roll. Plus, it offers UV protection for your baby and the material is breathable which helps make those hot, sweaty summer days a little more bearable.
LectroFan Noise Machine
A white noise machine is an essential tool for blocking out stimuli and soothing your baby to sleep at nap or bedtime. Marpac is the best-known brand, but it's certainly not the only one out there. LectroFan offers 10 different digital fan sounds and 10 different white noise levels, so you can find the perfect pitch to lull your baby to sleep. It works pretty well on tired dads too.
SNOO Smart Sleeper
Nighttime is often the hardest part of being a new dad, with your baby waking up every few hours for the first couple of months. The SNOO Smart Sleeper is a responsive baby bed, with motion and white noise levels that sense your baby's noises and adjust accordingly to help soothe him or her back to sleep. It also comes with a quick swaddle that removes all the mystery from figuring out how to tightly and cozily wrap up your baby for bedtime.
Tosan Pop and Tot Shirts
Your new baby took a lot of hard work to create, so why not make a statement showing the world how proud you are to be a new dad. Tosan's Pop and Tot shirts get the point across, and look pretty good while doing it. There are sweatshirts available for older children, and the t-shirt can be worn by a baby as young as three months old.
To Help a New Dad With His Sanity
Sony WH-1000XM2 Headphones
With a new baby around, a good pair of headphones is essential for those times when you need to get some work done, or just want to relax and watch some Netflix (during naptime, of course). Bose is always a reliable option for noise canceling headphones, but Sony makes a worthy alternative that's a little less expensive. The WH-1000XM2 includes features like "quick attention mode" that instantly turns down the volume, voice assistant, and wireless connectivity.
GSI Outdoors Glacier Stainless 8 Flask
Taking your baby into a crowded bar isn't much fun, but new dads should be able to enjoy the occasional drink with friends. A good flask discretely allows you to bring a little whiskey to the park, or even just out on your front stoop. This eight-ounce stainless steel flask was built for backcountry camping, which makes it tough enough to survive an accidental fall onto the pavement. Slip it into your back pocket, or toss it into the diaper bag when you head out the door.
Crema Coffee Subscription
Did you realize that being a new dad would be this tiring? You might have had an inkling, but the reality is that most days you are living in a fog and your caffeine intake has increased exponentially. A solid coffee subscription service helps to ease the pain and means that you don't have to leave your home for a decent cup of joe. Crema.co offers personalized subscriptions (you choose the frequency) from artisan roasters that supply single origin, direct trade beans.
Mr. Steak Portable Grill
The ability to prepare a quick meal is an important part of new fatherhood, and you and your partner can always use a quick dose of red meat to boost your energy. The new Mr. Steak grill is small, portable, and uses infrared technology to perfectly cook your meat. It heats up in less than two minutes and cools down in five, and won't take up much room on a small patio or balcony.
Cocktail Courier
The baby's finally asleep, which means it's time for dad to have a drink. Whipping up a cocktail can seem like a daunting task at the end of a long day with a newborn, but subscription cocktail kits make it easy. Cocktail Courier provides the spirits, ingredients, and directions you need to make everything from a Paloma to an Old Fashioned. Order a one-time kit, or go for a monthly subscription.
For Comfort and Style
Boppy Nursing Pillow and Positioner
An infant support pillow can be a great help to a breastfeeding mother, but it's also a fantastic way for a dad to prop his baby up, encourage tummy time, and generally allow some father-baby interaction. The Boppy pillow is a classic choice for good reason. It's sturdy, simple, and completely washable, so don't sweat it if your kid spits up or poops all over it.
PajamaGram Men's Hoodie-Footie Varsity Zip-Front Onesie Pajamas
By the time you wake up, feed your baby, change a diaper or two, walk the dog, and make some coffee, morning has almost turned into afternoon. Some days, especially for dads on paternity leave, there's really no reason to get dressed. Zip up this comfortable pajama jumpsuit instead for a trip to the corner store or coffee shop. It's soft and comfortable, and most people will just think you're wearing a sweatshirt and sweatpants.
Xtreme Comforts Shredded Memory Foam Pillow
A good night's sleep, though seemingly an elusive concept for new fathers, should be at the top of your list of goals. A little thing like a brand-new pillow can go a long way in helping you get some rest. The shredded memory foam in this pillow means that it doesn't get lumpy, and the cover is made using bamboo so it breathes at night and you won't overheat.
SPONSORED
Gillette On-Demand
Gillette® On Demand™ is the smoothest, easiest way to make sure dad is always stocked with the razors he loves. This direct-to-customer razor delivery service offers Gillette's quality blades at the best value and convenience delivered right to your doorstep because every dad deserves the best shave a man can get. Get $3 off your first order, plus every 4th order is free when you subscribe.
Kiehl's Facial Fuel
A quick face wash can make you feel like a new man after a long night of soothing a fussy newborn. Kiehl's Facial Fuel contains ingredients like vitamin C, chestnut extract, and caffeine (because why not?) to give your face a tingly, fresh feeling, and will help remove all of that stress and fatigue-induced oil from your skin.
To Help a New Dad Remember It All
Star Registration
You love your new baby so much, and you want the world to know. Actually, you want the entire galaxy to know. Broadcast your affection for your child by naming a star after him or her. You'll get a certificate and a star chart that you can look at together in a couple of years, and the star will be logged in the official star naming registry.
Impression Memories Baby Hand and Footprint Picture Frame
A long day at the office will go by a lot quicker if you have a nice photo of your newborn to look at. Even better, this frame includes molding clay to take an imprint of your baby's hand and foot that you can place alongside the picture.
Artifact Uprising Wood Calendar
Keep track of time and enjoy a view of your new baby with this wooden calendar made from reclaimed pine. Upload your favorite photos to the Artifact Uprising website, choose from one of three designs, and this clipboard calendar will be sent right to you. It's small and fits on your desk, a perfect reminder of who will be waiting for you at home.
Every product on Fatherly is independently selected by our editors, writers, and experts. If you click a link on our site and buy something, we may earn an affiliate commission.
This article was originally published on