The Best Father's Day Gifts For Dads Who Love Cooking And Food
Including a cryogenically hardened chef's knife and a hot glue gun that shoots cheese.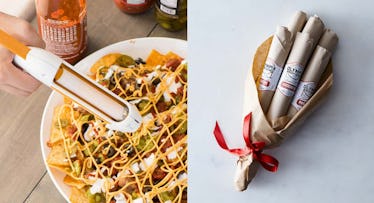 When families first celebrated Father's Day in 1910, the thought of dear old dad cooking dinner was laughable. Not a lot of dudes were showing off their sous vide skills or impressing the kids with hot dog mac 'n cheese. But, oh, what a hundred years will do. Now many pater familae wax poetic about well-seasoned cast-iron pans, whip up James Beard-worthy meals, and neurotically tweak Saturday morning pancake recipes until they're just right. If that describes you or a dad you know, then they'd likely appreciate a handheld smoke infuser, coffee-laced maple syrup, a nacho-decorating cheese gun, or any of the Father's Day gifts on this list. Dig in.
Trees Knees Coffee Maple Syrup
Considering how much dad loved last year's bottle of Pappy Van Winkle Barrel-Aged Maple Syrup on Father's Day, why not go back to the well, or the maple tree, again this year? Bushwick Kitchen's Trees Knees is fresh New York maple syrup infused with Stumptown Coffee Roasters Hair Bender Blend. Expect notes of "dark chocolate, cherry, toffee, and fudge." Also, the best Saturday morning pancakes ever.
Breville Smoking Gun
Because you can't put cocktails, popcorn, or a bowl of guacamole on the grill, Breville's handheld infuser lets you pretty much add smoky delicious flavor to anything that can be covered with a piece of plastic wrap. Simply drop a pinch of seasoned wood chips (applewood, cherrywood, hickory, or mesquite) into the chamber and — just like college — light it up. It comes with four AA batteries and two containers of woodchips — additional four-packs run $25.
Fondoodler
The Fondoodler may look like a cheesy joke, but it's totally real. Even weirder, the hot cheese shooter is licensed and sold by BuzzFeed, so try it out, then post an article about 23 Genius Fondoodler Hacks That Made Your Day. This great Father's Day gift is essentially a hot glue gun for gouda (and cheddar, and pepperjack, and …) that allows you to make fanciful fromage art on nachos. It comes in three simple dishwasher safe parts — gun body, cheese canister, and push rod ⏤ and using it is as simple as plugging it in, loading it with your finest string, shredded, or cubed cheese, and pulling the trigger.
Colonel E. H. Taylor, Jr. Four Grain Bourbon
For the dad who knows his brown booze, Buffalo Trace just dropped this limited edition, small batch bourbon in March. Another in its line that pays homage to former distillery owner Colonel E. H. Taylor, Jr, it was distilled in 2005 from a mash of the four grains he would have had access to in the 1800s ⏤ corn, rye, wheat, and malted barley. It also rocks a vintage label and comes in a canister designed to look like 100 years old.
Town Cutter Culinary Knives
High-end cutlery for the dad won't shut up about auditioning for Master Chef, these gorgeous handmade knives out of Oakland boast all natural wood handles and blades made of carbon/stainless steel that's been "cryogenically frozen to ensure a fine edge that holds its sharpness." So, there you go. There are six types — from a three-inch paring up to a 10-inch slicer — and they start at $180. They also come with free lifetime sharpening and a two-ounce bottle of camellia oil for routine care.
Olympia Provisions Salami Bouquet
Since dads are more likely to appreciate meat than marigolds on Father's Day, this Portland-based charcuterie sells stems of salami wrapped up in a boxed bouquet. Roll with three for $50 (one Italian, one French salami, and one Spanish) or six for $85. And if pops has a sweet tooth, they'll even throw in one made of a chocolate for an extra $5.
Shake Shack by Randy Garutti & Mark Rosati
The good news is that dad's favorite fast-casual, kinda virtuous, totally delicious burger joint, Shake Shack, just released a cookbook. The bad news is that it doesn't dish on how to make their ShackBurgers or sauce. It does, however, include 70 recipes in which you'll find secrets to what makes Shake Shack's food so delicious, as well as a ton of non-recipe stories and pics that chronicle the rise of both Danny Meyer's popular chain and burger joints the world over.
REC TEC Wood Pellet Grill
Is dad in the market for a meat-searer to make him the envy of all the neighborhood this Father's Day? This grill is guaranteed to make the neighbors jealous, especially when the smell of low maintenance, perfectly cooked BBQ starts wafting over the fence. It uses real wood pellets instead of propane or charcoal, which, as 'cue purists know, results in better tasting meat (it may also reduce the formation of carcinogenic chemicals). The hopper on this thing is massive: you can dump 40 pounds of pellets in there and just burn through them for weeks. If the grill is operating at less than 250 degrees, you can also activate the "Xtreme Smoke" feature which gets it extra billowy for maximum flavor. The lid doubles and a warming surface, and there are a bunch of cool add-ons available such as a searing kit ($80), a cold smoker box ($200), and front folding shelf ($100).
Stingray 7-in-1 BBQ Multitool
Doesn't matter if your grill has more counter space than a kitchen, no cookout king wants to juggle fifty BBQ implements while trying to cook a party's worth of burgers. Stingray's 7-in-1 puts all the action in one stainless steel multitool. In addition to standard tongs, spatula, and fork, the great Father's Day gift also rocks a spatula-tong combo (spatutong? tongula?) to keep food from slipping away and a handy, built-in bottle opener.
KitchenAid Cold Brew Coffee Maker
No need to spend your kid's college fund on Third Wave cold-brew when you can install this handsome brushed-steel java tap right in the fridge. Simply scoop fresh grounds into the steeper, fill with water, and give it a good 12-24 hours to brew and you'll have 28 oz. of coffee concentrate that you can mix in two-ounce shots with water or milk. The coffee lasts up to two weeks ⏤ your kid's 529 Plan thankfully longer.
This article was originally published on