The Best Snow Shovels for Guys With Bad Backs
Shoveling snow is a pain. But it shouldn't cause pain. These ergonomic, doctor-approved options will save your back this winter.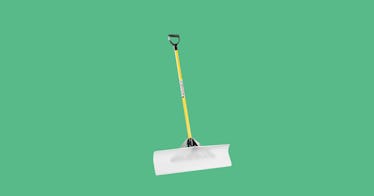 Nothing makes you feel old like back pain, and nothing makes your back hurt like shoveling snow. But much of the pain you feel when shoveling comes because you're using the wrong tool. The straight, rigid handles, narrow shovel heads, and general lack of features of standard shovels contribute to back pain because they aren't built to support the wet load properly.
According to Dr. Allen Conrad, a chiropractor at the Montgomery County Chiropractor Center, a good snow shovel needs to be lightweight with a broad scoop and a non-slip handle, all of which will help relieve pressure and stress from your back. We asked Conrad about the best snow shovels for bad backs. He was glad to lend his advice and also provided some back-saving tips when you're clearing snow: Take frequent breaks, pick up smaller amounts, and be sure to bend your knees when shoveling, the latter of which ensures that your back and spine aren't bearing the brunt of the load. Without further ado, here are the best snow shovels for anyone with a bad back.
Suncast SC3850 Ergonomic Handle
Conrad likes the wide scoop and angled handle of this shovel because they "take pressure off of the back during the lifting upwards portion of the shoveling motion." The strip grip coating on the shaft can also help you avoid injuries caused by wet, slippery weather.
Suncast 18″ Poly Snow Shovel Pusher with Ergonomic Handle
With a shovel pusher, which is angled properly to allow you to move snow in more of a plowing motion, Conrad says you can "avoid the shoveling motion altogether and simply push the snow forward." This model, also from Suncast, is a good pick if you need to clear smaller areas.
Back-Saver 20-Inch Lightweight Ergonomic Aluminum Snow Shovel with Wearstrip
Conrad likes this shovel because it's made of lightweight aluminum and has a 20-inch blade width, which combine to create a more even weight distribution and less stress on your back while shoveling.
The SnowPlow Snow Pusher
This pusher is built to last. It's rustproof, with a reinforced fiberglass handle and durable polyethylene blade. Conrad says that its design also requires less rotation of your back than the twisting that comes with regular shoveling. With its 30-inch blade, it's good for large areas like driveways.
This article was originally published on