The Best Electronic Pets for When You Don't Want to Raise a Real One
The closest thing to man's best friend without the house training.
by Ben Marx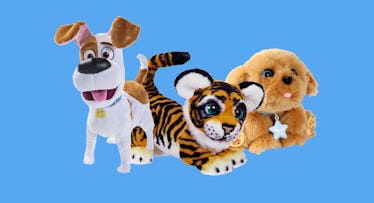 Few things bring joy to a family like a new pet. Show up at home with a puppy, kitten, or adorable floppy-eared rabbit and most kids will lose their minds. Unfortunately, not every house is suitable for an animal, nor every child ready for one. Plus, teaching a puppy to pee outside instead of on the rug can be a royal pain ⏤ and who wants to deal with that when small kids are already wreaking enough havoc?
That's why there's something to be said for electronic pets. Cute toy creatures that not only behave like the real thing, at least as much as a robot dog can, but also serve as starter animals to help teach kids about the responsibilities of pet ownership. But which electronic pets are the most realistic, cuddly, or fun? And which ones will hold a kid over until they're finally ready for the real deal? We took a look at the many electronic animals on the market these days ⏤ it's a growing toy trend ⏤ and rounded up eight of our favorites.
Little Live Pets Lil' Turtle Tank
Little Live Pets' collectible turtles may not live as long as the real-life counterparts, but they certainly travel better. They walk on land and swim/dive in the water and each comes with a portable tank habitat to take on the go.
FurReal Roarin Tyler, the Playful Tiger
FurReal's interactive Roarin' Tyler the Playful Tiger has over 100 sounds and movements, including growls and purrs, and responds to being petted, held, or spoken to. To generate his titular roar, kids just need to let one out themselves.
Fingerlings
With the right touch, these adorable and emotive baby monkeys babble, blow kisses, and, yes, even fart. These mischievous Fingerlings respond to sound, motion, and touch with blinking eyes, head turns, and silly monkey babble, and are available in five colors: turquoise, black, blue, pink, and purple.
Hatchimals Surprise
Hold and rub this mystery egg properly and, eventually, twin Hatchimals will coo and push their way out. Once hatched, the cuddly creatures play games, talk, and tell jokes. Move them face-to-face, and they'll even recognize one another.
Georgie
Not only is Georgia an electronic dog but he's a dancing machine. With over 100 voice-activated interactions, this super-soft pup will bust-a-move on command, as well as sit, stay, and play tug-o-war with his own rope toy. He comes with a neck bandana and a hang tag that can be repurposed as a collar.
Best Friend Max
Straight out of the hit movie The Secret Life of Pets, Best Friend Max is a rambunctious Jack Russell Terrier who wags his tail, says 15 phrases, and can even be leashed for a walk around the house or neighborhood.
WowWee CHiP
WowWee's CHiP does away with realism in favor of a slick, robotic design. This app-controlled, trainable cyber-dog recognizes and follows its owner, and can even play fetch with his own ball. Plus, when CHiP gets low on battery life, it'll make its way back to its doggy bed and charge itself.
Little Live Pets Snuggles My Dream Puppy
Perfect for snuggling, My Dream Puppy from Little Live Pets feels (and barks) like a tiny newborn pup. It also has wide, expressive eyes that open and close when you pinch her nose or feed her a bottle of milk.
This article was originally published on