Best Electronic Pets 2018: Pomsies, Fingerlings, Hatchimals, FurReals and More
The electronic pet revolution is here, and these are the best options.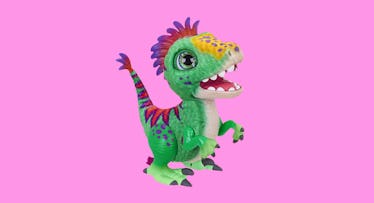 Kids love playing with animal toys; there's a reason that teddy bears have been around for over a century. But toymakers aren't sticking with mere cotton-stuffed creatures. Armed with new technology, they're creating animal toys that integrate new forms of interactive play. These new electronic pets, such as Pomsies, Hatchimals, and Fingerlings have sensors, motors, and speakers and respond to different stimuli in a variety of ways. They've been huge sellers, and there are now a ton of different options available. Here are 18 of the best you can buy right now that will certainly be topping holiday lists this year. Considering the supply shortages and insane resale markups that afflicted some of these toys in the past, buying them right now isn't such a bad idea.
Pomsies
Pomsies are not obvious imitations of any real animal; rather, the pom-poms with eyes seem engineered to be animal-like with maximum sparkly cuteness, with pastel fur, light up eyes, and long bushy tails. They purr when held, and their eyes glow different colors depending on their mood (which itself depends on if they've been "fed," i.e. your kid has touched the area around their mouth in a simulation of feeding an animal) Kids who can't bear to be away from their new pet can wrap their Pomsie's tail around a wrist or backpack strap for handsfree fun.
Fingerlings Monkeys
The original Fingerlings were one of the most popular toys of the 2017 holiday season. They're available in a ton of different colors, but no matter which one you get it will wrap around your finger, coo, blink, burp, fart, giggle, or perform another of the 40 different reactions. If you're looking for a popular interactive pet at a pretty inexpensive price point, Fingerlings are a solid choice. And if you need any Fingerlings accessories, there are plenty.
Fingerlings Unicorns
Functionally, these unicorn Fingerlings are similar to their monkey forebears. They turn their heads, make cute noises, and respond to noise, motion, and touch. However, they don't swing by their tails on account of the lack of a plastic, hook-shaped one, opting instead for flowing, rainbow-colored unicorn tails that match the mane on their heads. They are, however, still compatible with official Fingerlings playsets, so your imaginative kid can create a world where monkeys and unicorns are friends.
WowWee Untamed T-Rex by Fingerlings
This line of four different colored dinosaurs combines the fun of original Fingerlings with dinosaurs, a toy theme that never seems to go out of style. Like their monkey predecessors, the Untamed series of toys are designed to wrap around kids' fingers. They react to sound, motion, and touch with heads that turn, eyes that move, and, crucially, butts that fart. They also make other, dino-specific roaring sounds, but experience tells us that kids will giggle most when their dinosaurs are flatulent.
Fingerlings Hugs
The Hugs line of the popular Fingerlings toy eschews the plastic exterior of the original for a soft, cuddly plush toy with similar interactive features. Bella and Boris, the two available Hugs, are about a foot and a half long from head to toe, with arms that are long enough to wrap around your kid's neck and velcro on their hands to keep them there. Hugs have different reactions to being thrown, swung around, and rocked to sleep, but the coolest feature is a button in the left ear. When held it will record whatever is said and, when released, it will repeat that back in its higher-pitched "voice." It's a silly but entertaining feature, part of what sets these oversized Fingerlings apart from the competition.
Hatchimals Mystery
These surprise toys come in an egg that doesn't reveal which is inside. Kids can rub the egg to activate the fluffy animal inside, which will eventually burst through the shell, revealing itself. It's kind of weird, but kids seem to like this kind of surprise. Once they're out, these Hatchimals have a unique dimension of learning and development. They can learn your kid's name and use it in everyday chat and, as they get older, they will have new songs and games for your kid to play.
Zoomer Hungry Bunny
One way to think about the Zoomer Hungry Bunny is as a very inefficient paper shredder. It's most unique, most interesting function is its ability to "eat" tiny pieces of paper (like the included cupcake and carrot cut-outs) and, if its stomach is rubbed, to grind up that "food" and "poop" out confetti. If it sounds stupid, that's because it is. But it's also oddly captivating. Beyond its gastronomical functions, the Hungry Bunny also does more typical interactive toy things like singing, laughing, and reacting to touch. But the whimsical, almost crude way it shreds paper is the real reason to buy this toy.
FurReal Friends Pax, My Poopin' Pup
Companies are going big on number two. And, well, it's time to talk about yet another pooping interactive toy. Kids can "feed" Pax special pellets, walk him with an included plastic leash, and pick up those same pellets as poop when they gently pull back on the leash to sit him down and let him do his business. It's bizarre. Pax also makes standard fun dog noises when hugged, walked, or fed. If you have dog-loving kids who aren't quite ready for the real thing, Pax is one of the better substitutes available. We're not aware of any other pet dog with such fecal realism.
FurReal Munchin' Rex
Munchin' Rex is a baby Tyrannosaurus that kids are supposed to take care of. It comes with plastic treats and a bottle that, when inserted into Rex's mouth, can produce a "yummy" or "yucky" reaction. Those are among his more than 35 different sound and motion combinations, as are hopping and begging for treats (when he's hungry) and sound effects meant to sound like a prehistoric jungle. In addition to his mouth, Rex has sensors on his head that react to touch and being waved at. And, unlike those Jurassic Park dinosaurs, there's no chance Rex grows up to devour you, which is nice.
FurReal Makers Proto Max
This one foot-tall toy manages to combine the interactive pet trend with the trend for toys that help kids learn STEM concepts. Instead of attempting to create a petlike relationship, kids play with this toy by embracing its robotic nature. With a downloadable app they can use a drag-and-drop interface to write simple programs that incorporate custom responses to stimuli at over 10 activation points on the robot itself. When coding, kids have over 400 sounds and over 100 different eye animations to choose from. They can also control how the dog moves around. Once they're comfortable using the software, they can even program tricks for it to do.
FurReal Chewbacca
Chewbacca is half of one of filmdom's best friendships, so it makes sense that he's been adapted into this friendly genre of toy. The FurReal team created a 17-inch tall plush Chewbacca that has over 100 different responses to being played with in different ways. Kids can talk to Chewie and pick him up. He'll react with Wookiee noises, moving his arms around, and different facial expressions. It's pretty much how he reacts in the Star Wars films. The price is a bit steep, but this is a great toy for kids who love Star Wars in general and Han Solo's loyal compatriot in particular.
Lil' Gleemerz
The name Lil Gleemerz stands for little gleaming lemurs, and that's pretty much what they look like. They're about six inches tall, with a huge head, a long tail, and huge color-changing eyes. The three different modes reflect three different ways to play. Hangout is similar to most of the toys on this list: simple reactions to different touches and sounds kids might try. Light party turns their tails into light-up sound meters, pulsing along with music, clapping, or any other noise you kid can throw at them. Game mode utilizes the tail for a series of games that involve a light bouncing up and down the tail and kids squeezing it at the exact right moment. Lil' Gleemerz are versatile, a good fit for kids who are easily bored with other toys.
Little Live Pets
These plush toy versions of household pets come with adoption certificates, a la Cabbage Patch kids, to help kids feel more of a personal connecting. They havesix different play modes and over 35 different sound responses to motions like head pats, stomach rubs, and feedings with the included bottle. Also included: eyes that close and open, a head that moves, and a stomach that goes in and out to stimulate breathing. Little Live Pets also respond to tickling and kissing and even come in a pet carrier-style box.
Little Live Wrapples
These miniaturized versions of Little Live Pets aren't shaped like real animals. They're Pomsie-ish animal heads with a long, straight torso/tail that functions like a slap bracelet. Little Live managed to pack over 50 sounds and reactions, made up of different colored eyes, singing, and purring, among others, into a nine-inch long toy. Wrapples can even talk to you and each other, but if your kids need a break all they need to do is handle their grapple upside down and it will "go to sleep" with some soft snoring.
Meva PawPals
Another dog ownership-simulator designed as an interactive toy. This toy is a small dog, about 9 inches tall, with a leash that kids can use to take their toy on a walk. PawPals also bark–just like real dogs–and their tails do wag when they are "happy." Unlike a real dog, kids control their PawPal with buttons on its leash that wake it up and cause it to start playing.
Furby Connect
We're two decades out from the global Furby craze of '98, but 90s toys are having a big comeback. The latest iteration of the furry interactive pet is still captivating kids. Its ears move side to side and its mouth moves when it talks, but the coolest feature is its eyes. They're color LCD screens that can display over 150 different animations. It also has over 1,000 phrases in its vocabulary, which it uses to react to videos and games played in the Furby Connect app. At less than a foot tall, it's a compact toy, but it manages to pack a ton of tech into a small package.
Teddy Ruxpin
This updated version of the '90s classic replaces books on tape with downloadable audiobooks that Teddy, using a built-in speaker and motorized mouth and eyes, reads to you. His eyes change color depending on his "mood" (and the story he's reading). A few titles come with this high-tech teddy bear, and way more are available for download from the compatible app. It's no substitute for reading to your kids, but it's a great way to keep them occupied with a smart toy that reinforces the importance of reading.
Grumblies
These toys, from the makers of Pomsies, are a refreshing entry into the category because they aren't all sunshine and daisies. Grumblies are, in fact, designed to "melt down" in a kind of comic anger if you shake, poke, or flip them. What does a meltdown entail? Vigorous vibration and guttural noises are among the 40+ different kinds of reactions that Grumblies can feel. They're the interactive toy for kids with an attitude.
This article was originally published on