The Best Electric Clippers and Razors For Shaving Your Head
In summer, cooler heads (and therefore shorter hair) prevails. These clippers are best in the buzz.
by Jon Gugala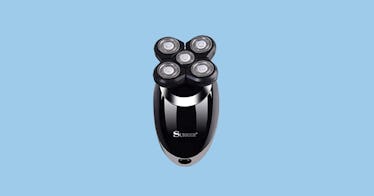 Lorde was right: Summertime is buzzcut season. And if you're like many men, the warmer months are meant for shorter hair, which is why you need a razor for shaving your head. Otherwise known as an electric clipper. One of the key points of knowing how to shave your head properly is understanding that regular maintenance is required. After all, a little growth shows a lot. And you don't want to look like a lopsided Chia Pet. That's why the preferred means of keeping hair shorn is not running to the barber every week, but to do it yourself. Which means you'll need a pair of electric clippers for the ideal at-home haircut. But what's the best razor for shaving your head?
See more: How To Get Rid of Razor Bumps and Razor Burn
Which pair of clippers you ultimately select are a matter of preference. Wired versions are more powerful but keep you tethered to an outlet. The wireless versions are convenient for the back porch but sometimes frustrating in performance. Guards? Extras? The options are more numerous than the hairs on your head. But fear not, our list breaks down some of our favorites and handicaps of each, allowing you to make the most of this year's buzzcut season before the fall arrives. Here, then, are the best electric clippers and razors for shaving your head.
The wireless HC4250 fits in the palm of your hand and has a power button under your fingertips for ultimate control around delicate areas like ears and neckline. It runs for 40 minutes — allowing a few cuts before a recharge — and the included power cord can also be used when you're giving yourself and the kids a summer cut. It also has nine guards, which range from 1/16 to 5/8 of an inch. While we liked the unit's design for self-care, when sitting the kids down, it felt less comfortable. So, if you're cutting other heads, more traditionally built clippers on this list will be best.
Is a pro-level clipper overkill for the average guy? Likely. But for those who enjoy the finer things in life, the precision of the 100 Year Clipper is a beautiful thing to behold. A 70-minute battery life and cord option allow for great versatility, while the 6,900-rpm motor slices through hair quickly and efficiently. The all-metal housing ensures its durability. However, pro-level gear rarely comes in a complete package. This clipper doesn't include a set of guards, so if you plan on trimming anything longer than three millimeters, you'll need to pick up a set. Also, the price should make anyone consider just how important pro-level gear is worth.
Including three hair-trimming guards and three beard-trimming guards, the Philips Norelco Multigroom is an excellent affordable option. The blades are self-sharpening and require no oil over time and it lasts for 60 minutes per charge. It should be said, however, that the lack of guards makes this more general purpose than head-specific. But this has made it a favorite for manscapers looking for a one-unit all-body solution. While hardly the most powerful, it's versatile enough to take care of needs head to toe.
The Surker has four included guards that offer a range of lengths for both head and beard; its five-blades only ups the versatility. Throw in the included nose hair trimmer and face brush, and it's an impressive package for long work trips. It also has 60 minutes of runtime per charge and self-sharpening blade. These conveniences comes at the sacrifice of power, and you'll likely need to make a couple of passes before a uniform cut is achieved. As such, we like this as an affordable travel option but would prefer something with more beef at home.
Wahl has managed to pack almost all of its professional-grade power into this four- inch long, four-ounce space saver. It also includes four guards as well as a blade maintenance kit for extended life and ultimate versatility. The two downsides to this unit are power and size. On the former, you must use it plugged in, which, as previously mentioned, may not be as versatile as some hope. But the latter is potentially a deal-breaker. Its smaller head size requires specialized smaller guards, which makes it more expensive to outfit than other, full-size clippers. This isn't a big deal if you're fine with the included 1/8-, ¼-, 3/8-, and ½-inch attachments, but if you want to get fancier, you'll need to spend a little more.
Every product on Fatherly is independently selected by our editors, writers, and experts. If you click a link on our site and buy something, we may earn an affiliate commission.
This article was originally published on