The Best Diaper Pails for Keeping the Stink Out
Because your nursery doesn't need to reek. Ever.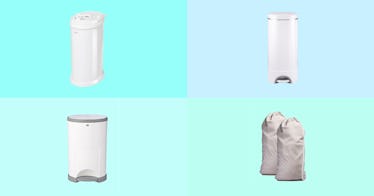 Because of the very nature of their job, dirty diapers stink. If you've never been accosted by the fetid funk of an overflowing diaper, consider yourself blessed. But most parents aren't so lucky, and to avoid having the searing stench of soiled diapers overtake your home, you need a diaper pail.
The best diaper pails, let's be clear, are much more than glorified trash cans. They have a very specific purpose. And hence, they should close with a seal that lets none of the odor out, be simple to open and close for parents who may be holding a baby in one arm and a diaper in the other, and ideally, be compatible with more than one brand of replacement bags. Bonus if they're not eyesores.
Eventually, kids do grow out of diapers, so you'll potentially want a pail that can transition into a garbage can, so you can get more use out of it. To that end, we did the homework for you and found some of the best pails for minimizing odors, while also saving you effort and money.
Every product on Fatherly is independently selected by our editors, writers, and experts. If you click a link on our site and buy something, we may earn an affiliate commission.
This article was originally published on