The Best Men's Diaper Bags That Have Built In Changing Tables & Pads
These bags are durable, feature-rich, and include built in changing tables.
by Jon Gugala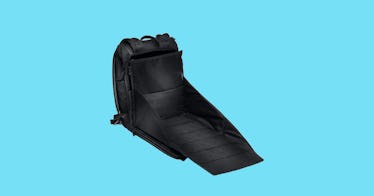 Face it, we've all used — how can we put this delicately —"questionable" surfaces on which to change a diaper. It happens to the best of us, whether due to circumstance (men's restrooms are still woefully lacking in changing tables) or because we flat out forgot, misplaced, or straight-up left behind a changing pad somewhere. But after one too many adventures, we began searching for the best diaper bags with built-in changing tables and pads. The reason is simple: If it's integrated with the bag's design, we're more likely to have it when we need it, and when it's not there, we're more likely to notice its absence and grab it on the way out the door. They make diaper changing a bit better for everyone. Here are our favorites.
Paperclip The Jojo
Yes, The Jojo by Paperclip is a great looking bag on its own. But it's one of our favorite bags because of the integrated changing table, which extends like a moving truck's ramp, is the smartest on this list. Removable and machine-washable, while attached, it provides a clean, soft surface that also has wing-like vertical buttresses that create a changing pad that pops up anywhere — and prevents your child from inadvertently rolling off. The main compartment is further divided by padded "cubbies" for essentials, while super cush padded straps ensure the whole package isn't digging into your traps by day's end. Stylish form and ingenious function move this bag to the top of our list.
Tactical Baby Gear Deuce 2.0 and Changing Mat
Okay, it's pretty aggressive with the military styling. But if that's your thing, go for it. With the Tactical Baby Gear Deuce 2.0 and Changing Mat, you're ready to bust in the door of fatherhood. This overbuilt messenger-style bag includes a fold-out mat with a "drop zone" target for perfect posterior placement every time. We loved the handiness of nylon webbing daisychains, Velcro patches, and five exterior pockets for on-the-go access to and securing of sundries.
Skip Hop Duo Signature Diaper Bags
Whether you use it as a tote, shoulder, or stroller bag, the Skip Hop Duo Signature Diaper Bag is a sleek, minimalist approach that we found to nevertheless have a wide range of uses. The included changing pad, at one foot by two feet, is the biggest we've seen, but it was the massive number of pockets—10—that really impressed the OCD tick in us. For those looking to file away everything in its right place, this is your choice.
Parker Baby Co. Birch Bag
With a look similar to one of our favorite Herschel backpacks, the Parker Baby Co. Birch Bag packs a lot of practical into an understated silhouette. Mesh, insulated, small, and big pockets provide a variety of individual storage configurations, while thoughtful touches like an included key clip make this bag the only one we needed for day outings. The included changing pad, which is stored in the body, allows for easy access with one hand.
The Honest Co. Cross Country Diaper Bag
This faux-leather weekender-style bag is ideal for long excursions or when bringing along a wealth of reserves. The zip-front design ensures nothing gets lost in its massive main compartment, while loads of pockets — two large insulated, four interior, two exterior slip, and three exterior zip — let us store everything else. A removable changing pad with its own zip pocket is also included.
Eddie Bauer Echo Places & Spaces Back Pack Diaper Bag
Another diaper bag that doesn't look like a diaper bag, Eddie Bauer's Echo Places & Spaces is good-looking enough for a trip to the coffee shop when the baby is with your partner. An included changing pad slides against your lower back, while dual-holstered insulated pockets offer ease of access to the next bottle. Stroller loops are also included. We loved the back-zip entry to its top-load main compartment for accessing bottom-dwelling essentials.
Diaper Dude Convertible Diaper Bag
Rock the Diaper Dude Convertible Diaper Bag as a backpack or a messenger. Either way, you have quick access to its cushioned changing pad and nine pockets (including one mesh and one insulated). Its big main compartment is secured via a rugged snap buckle, and contents are protected through heavy-duty nylon mesh and integrated stroller straps.
This article was originally published on