6 Best Baby Cribs For Every Style, Space, And Budget
Plus others that combine form and function.
by Fatherly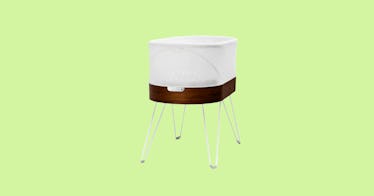 Babies sleep. A lot. So one of the biggest purchases (both in actual size and price) parents will make will be a crib, otherwise known as your baby's sleep throne. The best cribs are easy to assemble, easy on the eyes, and are convertible cribs, which turn into a toddler beds. You can also opt for a bassinet, which is portable but had a fairly short lifespan in terms of use.
Let's be clear: the crib you choose is a question of aesthetics, because of tighter regulations enacted in 2010. That's when drop-side rail cribs were banned, so any new crib you buy today will conform to those safety standards. Plus, whatever crib you get, per the Consumer Product Safety Commission, will have wood slats that are much more solid than in older iterations. Crib hardware also has anti-loosening devices to keep it from getting loose or falling off.
"A firm mattress should be the only thing in the crib. A baby can't appreciate a fancy crib. The vast majority of people buy new cribs and they're all kind of the same because they have to follow regulations," concurs Dr. Sumit Bhargava, a pediatric pulmonary and sleep medicine doctor at Stanford Children's Health.
The American Academy of Pediatrics has a few other common-sense guidelines when choosing cribs:
Get a crib with slats that are no more than 2 3/8 inches apart so a child's head won't become trapped.
Get a crib without any oversized cutouts, because again, your child's head or limbs could get trapped.
All screws, bolts, nuts, plastic parts, and other hardware should be in the box and part of the original equipment; meaning, don't order cheap replacements online.
Now, you can go the Kanye West route and spring for an egregiously clear crib, like this one. Or, you can save your pennies and pick something that's safe, easy to assemble, and easy on the eyes, with an adjustable mattress that you can lower as your baby grows up and can stand up in the crib.
Every product on Fatherly is independently selected by our editors, writers, and experts. If you click a link on our site and buy something, we may earn an affiliate commission.
This article was originally published on