Finding the Best Crib Mattresses is a Slog, So We Did the Work For You
Because baby sleep is a very big deal.
by Donna Freydkin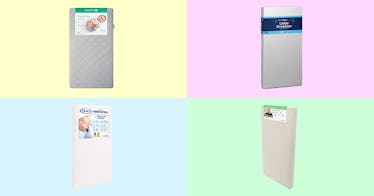 Babies sleep. A lot. Getting a great night's rest isn't just important for parental sanity — it's fundamental to healthy infant and toddler development. When you lay your infant down on his or her baby mattress, you want to know they'll be safe and slumbering for as long and as soundly as they need. That's where the best crib mattresses come into play. While the best baby mattress won't guarantee you a delightfully restorative night of shut-eye, it can make bedtime more seamless for you, and more comfortable for your infant. Also, it's worth noting that as of now, baby sleep products are not regulated, but that is changing in mid-2022, when a new federal rule goes into effect mandating that "any product intended or marketed for infant sleep must meet a federal safety standard."
When it comes to mattress in particular, the American Academy of Pediatrics (AAP) offers concrete guidelines that help parents narrow down their options. First and foremost, your baby should sleep on a flat surface, whether in a crib, bassinet, or play yard. Nothing else should be in the sleep space except for the baby — no blankets, no soft toys, no bumpers. In addition to fitting snugly within the crib, a mattress should be firm. In other words, it shouldn't indent when baby rests on it.
You can choose between innerspring mattresses, or foam mattresses, usually made from polyurethane. With innerspring mattresses, more layers generally equal a better mattress.
If you're planning to convert your baby's crib to a toddler bed, as most parents do, opt for dual-firmness convertible mattresses. The newborn sleeps on the firmer side, while the toddler sleeps on the softer side.
If you opt for an "organic" mattress, you should know that there's no concrete industry standard governing exactly what that entails. But it should be GREENGUARD-certified, at the very least, because that's a group that tests products for harmful chemical emissions.
Air out a mattress for at least 48 hours before sleeping on it. And whenever possible, encase it in a washable mattress cover because yes, there will be diaper blowouts and other times when things get really messy.
The AAP also cautions against being swayed by crib mattress manufacturers that claim their products can reduce the risk of sudden infant death syndrome (SIDS) as there's no evidence that this is true. Instead, the AAP recommends using mattresses that meet the CPSC's safety standards. There's also no proof that so-called breathable mattresses have any sort of health impact, so beware of unregulated buzzwords.
The CPSC recommends that a mattress used in a full-size crib be at least 27 1/4 inches by 51 1/4 inches, to prevent the possibility of head entrapment and suffocation between the mattress and crib sides, and the mattress should not be thicker than six inches.
Shopping for crib mattresses may be important, but it is hardly the most scintillating thing parents want to do. So we did the work for you.
Every product on Fatherly is independently selected by our editors, writers, and experts. If you click a link on our site and buy something, we may earn an affiliate commission.
This article was originally published on