3 Backpack Coolers That Keep Your Beer Cold and Your Hands Free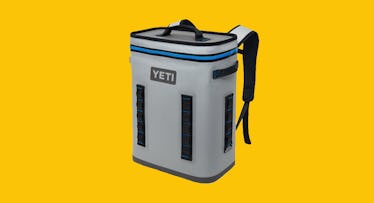 Fatherhood does not need cold beer but cold beer sure helps men through fatherhood. That beery fact of parenting is fine at home where the brewskis wait in the chilly dark just behind the refrigerator door. However, things get problematic when you have to pack a six pack outdoors with a kid or two along for the ride. How does one carry cooling beers and yet keep hands free to carry a whining toddler or catch a kid ready to run gleefully into poison ivy? The answer, my friends, lies in wonder of creation known as the backpack cooler.
But not all backpack coolers are equal. Some will last forever and others will last for a season or two. Some have all the bells and whistles while others just hold ice and some cans, as simple as that. In an effort to narrow down the playing field, here are three great backpack coolers at different price points, so you can find one that best fits your preference.
Best Low-Priced Backpack Cooler: Coleman C003 Soft Backpack Cooler
While Coleman plays in the budget rage, the C003 is highly rated on Amazon, even with its amazing $30 price tag. Users praise the C003 for it's workaday ability to keep beverages cool on the inside while separating dry goods in an outer pouch to keep them from getting all slimy from the ice.
Speaking of ice, the C003 does feature a zipper closure that some users report can get leaky if tipped. They suggest keeping ice below the zipper or using freezer packs. While the Coleman's capacity is less than the other coolers on the list, it's nevertheless meant for carrying on the long haul. Not only does the cooler feature shoulder straps, it also features padded hip straps to keep the majority of the weight off of dads shoulders. And with all the other weight on dads shoulders, well, that can only be a good thing.
Best Mid-Priced Backpack Cooler: IceMule Pro Cooler – 23 Liters
The IceMule Pro is the perfect gear for families that spend time on the water. And indeed, boating, kayaking, rafting and canoeing dads will recognize features on the IceMule that they find in other dry gear. Most notably, the cooler lacks any zippers that could lead to leaks. Instead it's accessed with a foldable top that keeps it airtight as well a leakproof. The leak and waterproofing is further achieved with welded seams. In other words, if a kid dumps IceMule out of the boat or flips the canoe, dad's beer will float on the surface of the water, still nice and cool.
IceMule boast that it can keep ice cool for a full 24 hours, and will hold 18 cans plus ice. That's thanks to its 23 liter capacity and the thick layer of foam which can compressed via an air valve in order to collapse the cooler into a three-ish pound packable package when not in use.
Best High-End Backpack Cooler: Yeti Hopper Backflip 24
Yeti is known for rugged outdoor cooling and beverage tech that dads will probably be able to pass down to their offspring. The rugged Hopper Backflip is no exception. The soft-sided cooler includes a thick layer of closed cell foam insulation and a tough waterproof outer layer. Combined with a cold-holding and leak-free zipper, the Hopper Backflip was able to keep ice cold for well over 24 hours in a recent field test that saw the cooler move between a hot trunk and a slightly less hot camping spot.
The capacity of the cooler allows for 20 cans of beer and ice, and when fully loaded it's just this side of light enough to carry comfortably. More than likely, however, loads will be lighter with a mix of juice boxes and treats for the typical dad on the trial with kids. Carrying itself is made more comfortable, however by well designed padded shoulder straps that contour to the body.
Not content to offer just a cooler, Yeti has also added a matrix of loops on the Hopper Backflip to attach peripherals like a Sidekick Dry bag that allows beer drinking dads to keep the essentials dry when creek walking with kids.
Every product on Fatherly is independently selected by our editors, writers, and experts. If you click a link on our site and buy something, we may earn an affiliate commission.
This article was originally published on