The 5 Best Convertible Strollers For Parents
Convertible strollers easily transition from infant to toddler, and save parents big bucks in the process.
by Aaron Stern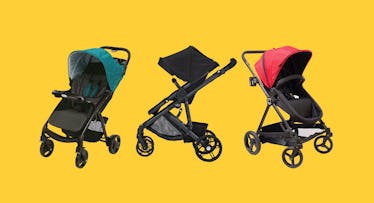 It is one of the shocks of parenthood to learn just how expensive strollers cost. Dropping $1,000 on one is not uncommon, and even then, you still wouldn't be at the top of the market. The reason, of course, is that you're often paying for adaptability. Convertible strollers, as many of them are, let you transition your child from newborn to toddler on the same frame*, giving you years of use out of a single product. The best ones are easy to maneuver, fold and brake, and offer comfort features like sun-protective canopies and ample amounts of storage. The best of the best even convert from a single to double stroller, saving even more money if you add a second child to the family.
To help you decide which convertible stroller should go on the registry, we took into account standard stroller features, special functions, price point, and how highly each stroller is rated and reviewed. In the end, we decided on these five for every budget.
*Convertible strollers can also be defined as those that can convert from carrying one child to two, and back; this list includes two such strollers, but that feature was not one of the criteria for inclusion.
Baby Jogger City Select LUX
The City Select LUX offers more than 20 different configurations and can expand to seat two kids. You can use an infant carrier, car seat, or toddler seat in either of its two carrying positions (upper and lower), and those seats can be reversed for parents who want to have that eye-contact bonding time while their out and about. The toddler seat has a multi-position recline and calf rest for maximum kid comfort and adaptability as they grow. All of that configurability does make it the heaviest offering on this list, however, and second most expensive.
Weight: 30.4 lbsWeight Capacity: 4-45 lbs.Folded Dimensions: 31″ x 25.75″ x 12″Suspension: Front and rear shocksBrake: Hand-operated decelerating and parking brakeCarrier adapter: YesOne-handed fold: No
Graco Verb
At only $90, the Verb is at the bottom of the price spectrum ⏤ but that shouldn't scare you away. The Verb's calling cards are its light weight, one-handed foldability, and a carrying strap, all of which combine to make it convenient for day-to-day use and portability. Infants can be accommodated with a separately purchased Graco infant car seat, and the regular seat has a multi-position recline. The plastic wheels mean the ride won't be as smooth as others, and the sun canopy is too short for some, but the Verb also offers plenty of storage, including a child tray, a parent tray with cup holders, and space for keys or other small items.
Weight: 18.8 lbs.Weight Capacity: Up to 50 lbs.Folded Dimensions: 18'" x 17″ x 11.65″Suspension: Front shocksBrake: Single-foot parking brakeCarrier adapter: YesOne-handed fold: Yes
Contours Bliss
The key feature of the Bliss is a seat that can be used as both a detachable infant pram and a reversible toddler seat, while the frame can be adapted to carry car seats from multiple brands. While a bit heavier and bulkier than others, it earns praise for maneuverability and an ability to fold down and automatically lock in one simple step.
Weight: 25 lbs.Weight Capacity: Up to 40 lbs.Folded Dimensions: 23″ x 24.5″ x 37.5″Suspension: noneBrake: Single-foot parking brakeCarrier adapter: YesOne-handed fold: Yes
Britax B-Ready
The B-Ready offers 12 seating options for up to two kids and is easily foldable, even when attachments for both children are in place. The one-touch brake has a green-red color indicator so parents know for sure when it is in place, and there's a handlebar storage pocket, in addition to the ample storage basket underneath the reversible seat. This is a large and heavy stroller at 28 pounds, but it earns high marks for sturdiness, maneuverability, and ease of use.
Weight: 28 lbs.Weight Capacity: Up to 55 lbs.Folded Dimensions: 26.5″ x 16″ x 30″Suspension: Front and rear shocksBrake: Single-foot parking brakeCarrier adapter: YesOne-handed fold: No
Bugaboo Buffalo
The Buffalo is the priciest option on this list by almost $600. But what you get for the money is a stroller renowned for its versatility, maneuverability, and smooth ride. It comes with both a spacious bassinet and standard reversible, reclining seat, and it can be put into a two-wheel carrying mode for rough terrain like snow, sand, or hauling it up the hill at a park. It also folds down and back out in a single fluid motion.
Weight: 26.2 lbs.Weight Capacity: Up to 50 lbs.Folded Dimensions: 35″ x 21″ x 13″Suspension: Front shocksBrake: Single-foot parking brakeCarrier adapter: YesOne-handed fold: No