8 Awesome Remote Controlled Construction Toys For Kids
From a fat-wheeled tractor that can rumble over obstacles to a 50-inch tall working crane capable of lifting buckets and logs.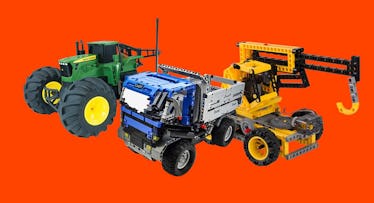 Was there anything more magical as a kid than watching a construction crew tear stuff up with their metal monsters? The belching smoke, roaring engines, and grinding gears was mesmerizing. So was the sight of them lifting steel beams, unloading dirt, or rolling through a field. It's probably why every home has at least one dump truck or bull dozer sitting in the toy box. And radio-controlled version of these workhorses have only gotten better. We're talking remote controlled models of bulldozers that can manhandle dirt, big wheeled tractors that can rumble over backyard obstacles, and 50-inch tall working cranes that can lift buckets and logs. Here are eight of our favorite construction toys for kids sure to satisfy any kid with a craving for getting their hands dirty.
Thames and Kosmos Remote-Control Machines: Construction Vehicles
From a company that was founded to create better science education materials, this engineering kit allows your child to build eight different worksite machines. Kids six and older can piece together such awesome vehicles as a concrete mixer truck with rotating barrel, a crane truck capable of lifting, and bulldozer with working bucket. The full-color manual not only provides detailed instructions, but also teaches them how the machines actually work in real life.
Top Race 6-Channel Full Functional Dump Truck
From one of the industry leaders in RC technology, Top Race, this dump truck is the perfect introductory toy for your little one. It has a fully functioning bucket, complete range of motion in the steering, working lights, and makes sounds. The remote is simple, and its heavy-duty plastic body can withstand the abuse it will endure on the job site.
Fistone R/C Shovel Loader Tractor
This beast would be fun at any age. It's incredibly realistic with an alloy shovel and cab, fat rubber tires, and a detailed paint job. Toss in the 4WD drive, a front shovel that has a full range of movement, working lights, and the fact that it has a radio control range of 300 feet makes this the king of the backyard job site.
Hobby Engine Premium Log Loader
It's the metal fangs of this log loader that will catch your kids' attention, and for good reason: They're large enough to pick up small toys. Once army men or stuffed animals are grabbed, the electronic speed control ensures a smooth ride, while the fully functioning front arm lets users stack things smoothly. It also comes with three plastic logs, in case true-to-life performance is what your kids are after.
Ertl John Deere Monster Treads Remote Control Tractor
This John Deere from Ertl takes the workhorse of the farm and amps it up. Bouncy oversized tires and a suspension worthy of a monster truck make sure this is not grandpa's tractor. It can stand on its rear, spin in circles, and rip over most terrain, guaranteeing your kiddo will be begging you to allow him to head outside to "get to work."
Hui Na Broken Disassemble 16CH Diecast Electric RC Construction Truck
The perfect toy for digging through the sandbox, this realistic vehicle gets around on two large treads. The fully rotational cab also lets them get the feel for what the real vehicles can do, and the remote control offers full control. The big hook, however, is the shovel, which your child can use both as a working jackhammer and arm.
Double E Building Block Dump Truck
The blocks of this 638-piece construction kit snap together much like Legos, and the directions are easy to follow for children 6 and older. Once the truck is complete, kids will have a working truck they can drive around and, uh, dump stuff. The blocks also work with other Double E products if you decide to buy more machines.
WolVol Crawler Crane
Standing 50-inches tall, this adjustable height work crane will dominate any play site. It has a working hook that can pick up items, a blinking light on top of the tower just like real cranes, and can fully rotate to deliver the load. It's built from high quality plastics to withstand abuse.
This article was originally published on