5 Best Cheap Summer Beers, According to a Beer Master
One of the top beer masters in the world shares the best cold ones to crack open.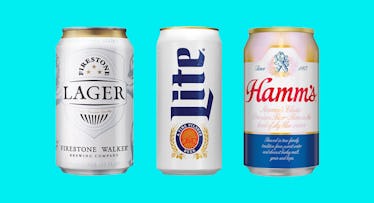 Affordable American lagers, the classic cheap summer beer, evolved from European lagers and pilsners over hundreds of years to appeal to the masses. American brewers added rice and corn to lighten the flavor, making the crisp cold ones dads crack open today. But these beers don't nearly get as much respect as they deserve, Jason Pratt, a Master Cicerone, the highest level of beer education, says.
"The biggest misconception about more affordable beers is that they're easier to make. In fact, they're one of the toughest styles to make," Pratt, who has a masters in microbiology from Michigan State University, told Fatherly. The reason these are more challenging because brewers have to keep flavors subtle but in balance. "There's really nothing to hide behind. All the mistakes that can happen throughout the process, there's nothing to cover them up because the beers are so light. So it's really about remaining consistent."
To Pratt, what makes a great cheap summer beer is more than the clean, crisp taste. It's not even that a case of them is a bargain. It's that people know exactly what they're going to get every time they open the beers — Pratt's personal favorites.
Hamm's
Originally brewed in Minnesota in the late 1800s, Hamm's is every grandpa's favorite cheap beer, as well as one of Pratt's picks. It's one of the cheapest beers, less than $4 for a six-pack, but also more difficult to find because to track down because it's not distributed in every state. But drinkers in the Midwest, where the Hamm's Brewery has its roots know it's popular because of how it tastes, The price-point, catchy jingle, and bear mascot just add to the overall experience.
"I would say Hamm's is underrated in the general public, but when you see any of the lists, it win's so many medals in blind tastings," Pratt says.
Coors Banquet
Established in 1873, Coors is the third largest brewery in the United States. At $25 for a 12-pack, Coors Banquet is more expensive than Coors light, but that partially because people are paying for more than crisp, clean taste. They're paying for the story dating back to the days of Rocky Mountain miners throwing back a few at banquets, Pratt says. "When you think about the history and the way the beer has stuck to its roots, it's one of my favorites. It's still only brewed in Colorado."
Firestone Walker Lager
Firestone first created their lager back in 2000 but more recently revamped the recipe and released the Walker Lager this year. The silver can is a call back to the more mainstream brews like Coors, but an example of a craft brewery catering to mainstream taste buds. "A lot of craft breweries are realizing the popularity and making their version of this American lager," Pratt says. But at $10 for a sixer, Firestone Walker Lager is one of the best.
Founders Solid Gold Lager
Like Firestone, Founders originally released their lager several years ago, yet overhauled the recipe this year when Solid Gold was relaunched nationally. At $14 for a 15-pack, Solid Gold Lager represents another craft breweries answer to the cheap summer beer. It's a great option for old-school beer drinkers who want to step outside the box without going full-hog on a heavy stout or IPA. "They're not under the radar, but they are examples of smaller producers getting into the lager game," Pratt says.
Miller Lite
For just under $6 a six-pack, Pratt can have his favorite cheap beer of all — an ice cold Miller Lite.
"Miller Lite one of my go-to's, it always will be. It's kind of the beer that always got me into beer, so it will always have a special place in my heart."
Introduced nationally in 1975, Miller Lite was not the first light beer on the market, but it was the first one to become successful. The beer propelled Miller to second place in the American brewing marketplace and effectively launched the light beer industry that made beer even more celebratory and inclusive.
"These are the kind of beers that are really good at enhancing your time with family and friends. They put an exclamation point on it."
This article was originally published on