The Best Cast Iron Skillets and How To Clean Them
From Lodge to Le Creuset, these black and enamel cast iron pots will last pretty much forever, if you treat them right.
by Donna Freydkin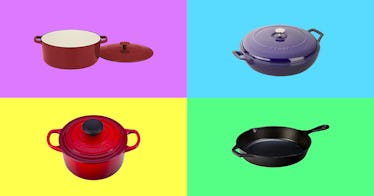 If you want a true investment piece for your kitchen, look no further than a cast iron skillet. When it comes to durability, longevity and just good taste, a cast iron pot is your go-to tool. It cooks food evenly, and it lasts and lasts and lasts. Yes, you can choose from a smorgasbord of pricey, fancy, tricked-out pots and pans, which all claim to transform you into Thomas Keller. And yes, some of them really are worth the price. But when you spring for the best cast iron skillet, it's hard to go wrong. The more you use it, the better it gets.
There are two varieties to choose from: black cast iron, and enamel cast iron. The one you pick depends on how much time you want to invest in your pan. Meaning, it's best to pre-season a black cast iron pan, because it boosts the flavor output, while ceramic ones are wash and wear.
"The black cast iron with no enamel coating are usually sold pre-seasoned. That pan is ready to go and you can start cooking in it. It's going to keep acquiring more seasoning and it will become more nonstick and less prone to rusting," says Lisa McManus, executive editor of tastings and testing at America's Test Kitchen. "The enamel cast iron has a glass-like glaze on it. It has a coating over the cast iron. It can't rust. This pan is better if you don't want to bother with seasoning a pan."
Which brings us to the one downside of black cast iron: You've got to take care of it. This means scrubbing it with kosher salt and cooking oil, rubbing it down, rinsing it off, patting it dry and never, ever using soap. Ceramic cast irons skip this step. Just wash them gently by hand using warm soap and water, or throw them in the dishwasher if you're feeling brave.
Every product on Fatherly is independently selected by our editors, writers, and experts. If you click a link on our site and buy something, we may earn an affiliate commission.
This article was originally published on