The 7 Best Off-the-Shelf Bubble Baths
Tub time just got a whole lot more entertaining with these innovative bubble baths.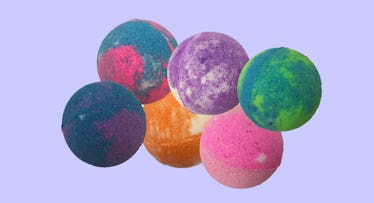 Sure, it's easy to make your own bubble bath, but that DIY recipe is rarely as sudsy, awesome-smelling, and, let's face it, easy as an off-the-shelf bottle. Here are seven kickass bubble bath bottles that will make bath time all that much more fun.
Johnson's Bedtime Baby Bubble Bath
Featuring the naturally calming scent of lavender, this hypoallergenic bubble bath is designed to help your little one slip off into dreamland. Paraben- and phthalates-free, this bubble bath is based on the brand's winning No More Tears formula so it won't sting if it gets in their eyes.
Color My Bath Color Changing Bath Tablets
What's better the foamy bath water? Foamy blue bath water, naturally. This canister of 300 bath tablets will transform boring clear H2O into red, blue, and yellow hues. (Mix and match to create purple and green.) While the action is more of a fizz than a froth, the colors will last the entire bath, and the dye will not stain your tub.
California Baby Eucalyptus Ease Bubble Bath
If your child suffers from itchy or dry skin, this nourishing formula is what you want. The unscented bubble bath contains soothing aloe vera, eucalyptus, calendula extract, and Douglas fir essential oils. Best of all, it comes with a magic wand, so your kid can blow his own bubbles while he soaks in them, too.
TruKid Watermelon Bubble Podz
Made with only four ingredients, the bubbles in this all-natural formula come in single-use, water-soluble pods. Just drop one in the tub and the foaming action will begin.
Disney® 24 Oz. Princess Bubble Bath in Berry Bliss
For little ones who need extra coaxing at bath time, invite them to suds up with their favorite Disney Royalty. Depicted on the bottle are three lovely princesses with long locks ready for washing — just like your child's. The tear-free formula comes in kid-friendly berry-bliss scent.
Sky Organics Kids Bath Bombs
Did someone say "surprise"? Watch a look of amazement spread across your youngster's face when the water-activated, fizzing ball dissolves to reveal a secret prize inside. The real joy of this set of six jumbo-size bath "bombs" is that they are handcrafted from organic materials in small batches in the U.S.
Mr. Bubble Original Bubble Bath
Sometimes, simpler is better. This classic bubble-gum-scented bubble bath has been pediatrician- and dermatologist-tested, to ensure maximum safety for your child's skin. Add 1 to 3 capfuls—the more you added, the more it bubbles! This formula is hypoallergenic and tear-free.
This article was originally published on