The Best Bounce Houses for Restless Kids in Summer 2021
Kids who can bounce are happy kids.
by Donna Freydkin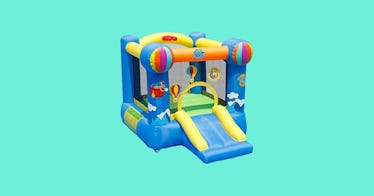 As we leap into this long-anticipated summer of relative fun and freedom for kids, you may have invested in a stock tank pool pool or a water slide for the lawn. But nothing transforms your backyard — come summer, spring, or fall — into a garishly glorious amusement park quite like a kids' bounce house. And nothing provides quite as much safe bouncing, either: These hideous but practical structures allow kids to jump and jump until they can't jump another minute. The best kid and toddler bounce houses are safe, durable, and let kids burn off energy while having a great time, all without ever having to leave the yard — which gives parents something resembling a break.
When you choose a bounce house, pay attention to the weight limit, so that you can get the most use out of it. You want one that's easy to set up, and equally easy to deflate and store. The bounce houses on our list all come with blowers to inflate them, and in-ground stakes to keep them secured. To be perfectly clear, the American Academy of Orthopaedic Surgeons is not a huge fan of these structures, and suggests that parents follow some common-sense guidelines when using one:
Make sure one child uses it at one time, if at all possible.
If more than one kid is using it, the kids should be the same age and size.
Kids should use the bounce house under adult supervision.
No pushing, shoving, kicking, or karate maneuvers, period.
The Best Kids' Bounce Houses 2021
Every product on Fatherly is independently selected by our editors, writers, and experts. If you click a link on our site and buy something, we may earn an affiliate commission.
This article was originally published on