The Best Family Board Games to Play With Kids
These games will get 'em off their screens. We promise.
by Hudson Lindenberger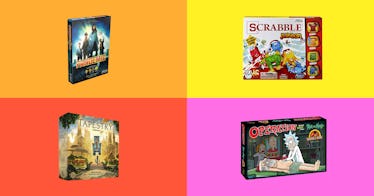 Board games are key when you're trying to connect with your kids — especially when everyone's cooped up together and maxed out on screen time. The best family board games engage, entertain, and challenge players of all ages, while letting everyone blow off some steam and have a few laughs. All while you get to hang out with your children and have an actual thing you call a conversation. A well-conceived board game for kids teaches them how to think creatively and strategically, work collaboratively, communicate effectively, compete respectfully, and, in some cases, even hone their motor skills.
To ensure that your next game night is a hit, we searched high and low for some of the best family board games out there. We found the best board games for adults that are also the best board games for kids. Some are creative updates of old classics. Others are fun enough to make you howl with laughter. And still others are, well, designed for the oddball living inside all of us. Play on.
The Best Board Games for Kids and Families
Every product on Fatherly is independently selected by our editors, writers, and experts. If you click a link on our site and buy something, we may earn an affiliate commission.