The Best Blenders for Silky Smoothies and Soups
From Vitamix to NutriBullet, we found the best blenders for all your needs.
by Donna Freydkin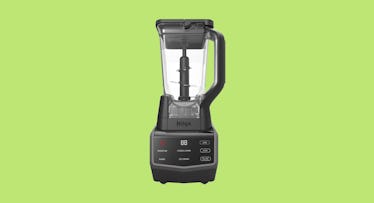 The best blenders can purée or emulsify any fruits and veggies, making smoothies, soups, and sauces smooth and easy to make, rather than a process you dread. When your blender has a motor that never loses power and blades that stay sharp no matter how much ice you throw their way, it becomes an asset to your cooking, rather than a difficult-to-wrangle and hard-to-clean appliance taking up counter space. A great blender especially handy now that the weather is warming up, and adult libations like margaritas will be on the menu.
Before you invest in a blender, or reach for a Ninja or Vitamix, assess what you'll be using it for most often. The best blenders aren't cheap, and the level of your investment should depend on what you plan to use it for. You don't need separate soup and smoothie blenders, but there are variations to consider. If you don't have much storage or counter space, consider an immersion blender, which is basically a portable motor that gets stuck into a pot of soup or glass of fruit. Premium blenders cost the most, and do the most, while so-called conventional blenders are up for daily tasks like blending smoothies.
"If you're mixing up frozen drinks in the summer, go cheap. If you're making raw kale smoothies and nut butters, spend some money. You want food to stay close to the blades, so you don't want anything with a wide jar," recommends Lisa McManus, the executive editor of tastings and testing at America's Test Kitchen.
You want a blender that comes with hardy plastic containers that won't crack. Plus, opt for one that has easy-to-manage controls that actually make sense and don't require an advanced culinary degree to figure out. Three-speed settings are usually enough for the casual home cook, but you can go nuts and get one with a half-dozen settings, if you prefer. Pre-programmed settings for popular things like smoothies, butters, and soups are a bonus. These blenders will make all of your soup, smoothie and margarita dreams come true.
Every product on Fatherly is independently selected by our editors, writers, and experts. If you click a link on our site and buy something, we may earn an affiliate commission.
This article was originally published on