The Best Black Friday Deals for Nerf Guns
Improve your Nerf arsenal with these amazing deals.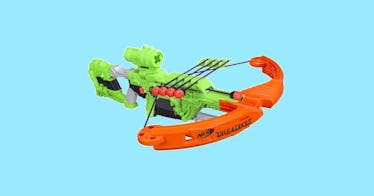 It's officially Black Friday and that means there is no better time than right now to add some serious firepower to your Nerf gun arsenal, as there are a ton of amazing deals on seriously kickass Nerf guns that you will want to have for your next Nerf gun war. Because whether you are looking to buy your kid their first Nerf gun or you are just trying to get one for yourself to annoy your friends, you want to make sure you are getting the best deals out there.
But knowing where to find the right deals can be tough, which is why we've rounded up four of the best Nerf gun deals happening today. Be sure and buy quick, as they are all on sale as a part of Black Friday, making this the absolute perfect time to finally upgrade your Nerf gun collection. Check out the awesome deals below.
Nerf N-Strike Elite SurgeFire
This rapid-fire revolver-like toy gun will be sure to give you a leg up in any Nerf wars you may find yourself facing in the foreseeable future.
Nerf Zombie Strike Dreadbolt
The only thing cooler than a Nerf gun? A Nerf crossbow. It may not shoot as fast as the others but it doesn't matter when your Nerf weapon is this badass.
Nerf Rival Prometheus MXVIII-20K
This massive machine is for people who are determined to establish Nerf dominance.
Nerf Zombie Strike Survival System Scravenger
The Prometheus will instantly turn you into a sharpshooter.
This article was originally published on