14 Awesome Beach Balls Under $10
Because it's really not a day at the beach without something to swat up in the air.
by Ben Radding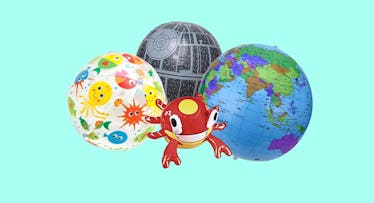 Ever since Jonathon DeLonge invented it in 1938, the beach ball has become a ubiquitous sign of summer fun. As it should. The inflatable ball is inexpensive, packs down small, and allows for a range of activities, from catch and volleyball to keep-up-in-the-air. And, man, there's something really satisfying about whapping a beach ball full force. Now, of course, there are hundreds of beach balls available. Big ones. Small ones. Those emblazoned with emojis. And while all enable the same style of play, each allows for a little bit of extra characterization. In the sake of expanding your inflatable horizons, here are 14 awesome beach balls under $10. Even better, number of these come in sets of six, because, let's be honest, you're going to lose at least one of them within the first half hour.
Kangaroo Rainbow Beach Balls
Rainbow inflatables are the O.G. ocean toy — ideal for being batted around at the beach, backyard, or by summer concert crowds. This 12-pack should last you the entire summer.
Emoji Universe Beach Balls (6-Pack)
If love emojis, these 18-inch beach balls are a silly way to show it. But even better: if you hate emojis, there's something pretty damn satisfying about volleyball-serving the the smirk off their stupid round faces.
Novelty Red, White, and Blue Beach Balls (12-Pack)
Listen, sometimes you just want to go to a sunny spot and whap around a red white and blue beach ball before grilling up a few sabrett's and smash burgers. This star-spangled 12-pack will enable just that.
Pink Flamingo Beach Balls (12-Pack)
If you're the father of a child who is obsessed with pink, flamingos, or pink flamingos, well, we've got you covered.
Coconut Float Unicorn Beach Ball
This giant, 27-inch unicorn-stamped beach ball adds some sparkle and size to a kid's pool party. Pair it with this 7-foot-tall unicorn sprinkler for a one-two punch of summer awesome.
Intex Lively Print Beach Ball
Maybe it reminds you of the pattern that was in your grandma's bathroom cushion. Or maybe it's exactly what your kids want. Either way, this bright, durable 24-inch ball will never get confused with those other bland balls on the the beach.
Armour Shell Skip Ball
Okay while not a traditional beach ball, this squishy little sphere should always be in your beach/pool bag. As its name suggests, it skips across the water when thrown and doesn't sink, making it ideal for hours of in-ocean games of catch.
Pangda Globe Beach Balls (2-Pack)
Here's a fun game: Every time you bat this beach ball in the air you have to call out the name of a different country. Brings a whole new meaning to beach-side games of around the world.
US Toy Sports Theme Beach Balls (12-Pack)
If the first thing that comes to mind when you look at these oversized beach balls isn't a silly game of gigantic football or baseball on the beach, well, get your priorities straight.
SwimWays Death Star Light-Up Beach Ball
What Wars fan wouldn't want to swat around the likeness of a fictional weapon of mass destruction that destroyed entire planets? It even has a light up for evening games of Wookie tag. Or, you know, catch.
Fun Express Mini Monster Beach Balls (12-Pack)
These 4.5-inch beachballs look like cast members of an unreleased Pixar short and are perfect play-toys for the kiddie pool.
Jet Creation Large Eye Beach Ball
Is this giant eye beach ball a little creepy? Uhh yeah. Will it enable you to make some amazing dad jokes about pupils and having your eye on your kids all summer? Damn straight.
Amscan Crab Shape Beach Ball
Look at this smiling crab! He has dull claws and a cheeky grin and is probably thinking about scuttling somewhere. Now, you probably won't be able to bat him around as you would an un-legged beach ball. But he just looks like a good time, doesn't he?
Fun Express Design Your Own Beach Ball
Have a design that's not readily available, or just want to write your family name on the toy so you know which one's yours? Grab some permanent markers, stickers, glitter, and glue and get to work on this blank ball. Even better: Let the kids design it en route to the beach so they have something to occupy them when you inevitably hit holiday traffic.
This article was originally published on