The Best Bath Toys for Babies and Toddlers
Make bath time more bubbly with these floating, squirting, squeaking, splashing bath toys.
by Lauren Steele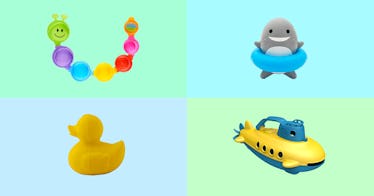 There's no better play space than the bath for babies and toddlers. They splash. They blow bubbles in the tub. They experience the singular and soothing sensation of being submerged in warm water. And when deployed correctly, the best baby bath toys only heighten the experience.
When choosing bath toys, we focused on ones that were both visually and cognitively engaging, because bath time should be enjoyable for kids and parents. These tub toys are colorful, easy to use, and even easier to clean. We also, whenever possible, picked toys that had minimal or no openings, thus reducing the chance of mold (which thrives in enclosed, wet spaces) making a guest appearance. Here are the best bath toys for babies and toddlers.
The Best Baby Bath Toys
The Best Bath Toys for Toddlers
Toddlers are squirmy, and they're easily bored. When choosing bath toys, you want ones that actually challenge them, engage them, and hone their motor skills.
Every product on Fatherly is independently selected by our editors, writers, and experts. If you click a link on our site and buy something, we may earn an affiliate commission.