The Best Bath Bombs for Kids to Get Their Fizz On
And just like that, bath time battles are over.
by Donna Freydkin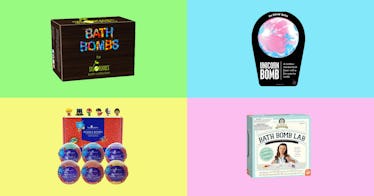 Sooner or later, your once bath-loving child will become astonishingly allergic to soap and hot water and will simply refuse to bathe. You can battle it out. You can cajole. You can try bribes. Or, you can load up on the best bath bombs for kids to make the whole waterborne experience less of a horrific, scream-filled ordeal.
For the uninitiated, bath bombs are colorful, hard-packed mixtures of dry ingredients that fizz when you dump them into water. Some of them even have surprise toys in them, which are revealed when the bath bombs dissolve. The best of them smell wonderful. They're guaranteed to at least temporarily renew interest in bath time, making it, maybe not exactly a joy, but at least a tolerable part of your routine.
As with all things that touch the skin, read the ingredients. Bath bombs generally are made of baking soda (sodium bicarbonate), citric acid, and a mix of essential oils for the scent and dyes for the color. Some have more stuff in them than others, so use your judgment and if unsure, do a patch test. Generally, they're considered safe for kids three and older but parents should rinse children under clear water after the bath to get rid of any residue.
Every product on Fatherly is independently selected by our editors, writers, and experts. If you click a link on our site and buy something, we may earn an affiliate commission.
This article was originally published on