The Best Baby Gear of 2019: 100 New Products for New Parents
From slim strollers and smart car seats to cool baby clothes and pop-up outdoor cribs, here are 100 items new parents need to know about.
by Fatherly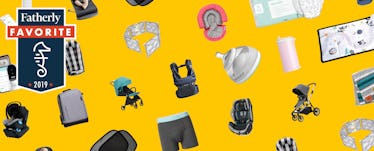 Knowing what you need as a new parent can be a challenge. There are a seemingly endless stream of car seats, strollers, crib, bottles, and baby monitors on the market, all of which claim to keep infants safe, healthy, and happy in different ways. Most of these products sound plausible, but they are not all created equal; many represent attempts to quickly capitalize on new parents' anxieties. Here's the good news for tired shoppers: The best stuff has never been better. We're in the middle of a baby gear renaissance.
Innovation is everywhere, from the small (pacifiers that pop in when the fall to keep them safe; clever bottles that smash down for easy storage) to the big (baby monitors that track baby sleep habits; car seats with built-in sensors keeping tabs on your child during the ride). Which is why Fatherly set out to highlight the absolute best baby gear on the market. Consider this a celebration of the golden age of parenting stuff.
The list below is comprised of new releases as well as a few slightly older products that we're just too good to responsibly exclude. This is the best stuff out there. Do you need all of it? Probably not. But there's something here — be it a pop-up outdoor crib or a cool onesie — for everyone.
BlueSmart Mia Smart Baby Feeding System
The BlueSmart Mia Smart Baby Feeding System is a sleeve-and-app combo that slips onto most baby bottles to track the content's temperature, your child's feeding, and a host of other data, including alerts for milk expiration, meal times, and more. Once connected, the proprietary app monitors and records that data, which can be shared with your pediatrician on your next visit. For parents that are especially concerned with growth of undersized or premature infants — or anyone tired of logging feedings by hand — it's an important tool.
Doddle & Co. The Pop Pacifier
Face it: Your child's pacifier is going to go places that will make you cringe before going right back into his or her mouth. Sure, you could try to sanitize it after every drop, but Doddle & Co. engineered the The Pop to recess into itself upon hard impacts, thereby reducing contact with non-mouth surfaces. Genius.
Medela Sonata Breastpump
The whisper-quiet, incredibly powerful, and wireless Medela Sonata Breastpump is just a tick below the company's hospital-standard Symphony. Its two pump settings were clinically developed for your partner's specific needs, while the two-phase expression design maximizes her output at every sitting. The best part: Rechargeable and wireless, it allows her the freedom to pump on the go, while a proprietary app records output, helping ensure she's producing regularly and with enough volume for your infant's nutritional needs.
Beaba Babycook Neo
We've been longtime fans of Beaba for its reliable cooker/blender combos. But the one qualm we had with the Original was its use of plastic, which could break and discolor over time. The Babycook Neo, crafted from stainless steel, corrects this, while bumping up the volume it can handle (from 3.7 cups to 4.7 cups). Nevertheless, it still steams incredibly fast (15 minutes) and blends as smooth for healthy, homemade baby food that is super easy to make and store.
Snoo Smart Sleeper
The Bentley of bassinets, the Snoo Smart Sleeper mimics the motion of the womb to help your child catch some Zzzs. It's so confident of its efficacy, it claims you'll get an extra of hour of sleep (for yourself) per night. Widely respected pediatrician and educator Dr. Harvey Karp founded the company, and his product has become famous among celebrities, including Mila Kunis and Ashton Kutcher. Of course, with those endorsements comes a hefty price tag, but the company also has a rental program, which makes it more affordable — and temporary — for your child's first six months.
Hatch Baby Rest
This combination of nightlight and white noise maker is so handy that we're amazed no one thought of it sooner. Controlled via an app from your phone, you can select multiple hues, all of which have been shown to aid in your child's circadian rhythm, while white noise's benefits, backed by science, allow for deep, restful sleep all through the night. We especially like its swappable coverlets, which are a fun way to customize its appearance as he or she grows older.
LectroFan Kinder
Effective and with an ease of operation that would make Apple green with envy, the LectroFan Kinder plugs into an outlet and can emit 75 distinct sounds, including white, pink, and brown sounds; fan whirrs; nature noises; and even lullabies. The nightlight functions in multiple colors, while a smartphone app, which connects through Bluetooth, allows you to control multiple units with multiple settings and volumes.
Veer Cruiser
Versatility is king with the Veer Cruiser, which adapts to so many different situations that it should be considered a parenting essential. It's a stroller, quickly accommodating one or two child's car seats with a few simple adjustments. It's a wagon, easily traveling off-road thanks to airless tires and suspension system. Push it or pull it, and when it's time to pack it away, it collapses nearly flat for easy storage.
The Noni Crib
Simple to assemble and strong enough to endure a shipwreck, the Noni Crib is made from solid birch plywood that slots together without tools. In fact, it's so easy to assemble (literally four steps) that many owners disassemble it and store it away when not in use. It also comes in two different sizes (one for smaller spaces at 43 inches long and another, at 57 inches long, for when space isn't a consideration) and a host of attractive, baby-safe finishes.
Amazon Echo Show (2nd Generation)
If you've got a question as to whether that spot is normal, the Amazon Echo Show, powered with Alexa, has your answers. Thumping, Dolby-enabled speakers and a 10.1-inch HD screen will answer your endless queries and pump out Drake when you need a dance break, all while putting the breadth of Amazon's universe at your access with a command of voice. Plus, the practicality of playing videos for your kids, setting timers, making lists, and Skyping the grandparents make its uses myriad and its necessity in the modern smart home arguable.
Cybex Sirona M
All car seats are engineered to precise standards for safety, but the Cybex Sirona M has both slick engineering and a smart component to give you more info while in the front seat. The five-point safety harness, connected to an app on your smartphone, offers alerts for too hot/cold temperatures, stretch reminders on long road trips, and, most importantly, a warning should the seatbelt be unbuckled. For this blend of tech and function it's won gobs of awards, likely being a harbinger of future child safety in the car.
Beanko Mobile Changing Station
As a new parent, you'll be on the move plenty, and this changing mat is designed to move with you. Conveniently hung behind your car's front seats, its foldout design expands to a 25-inch changing surface, while also including compartments for essentials storage and a sleeve in which you can slide an iPad. In an prescient moment of foresight, you can even open it with one hand.
Ice Cream Castles Rainbow Roar Sweatshirt
We like the feel of this long sleeved sweatshirt, which is made of 100 percent machine washable cotton. It's very, very soft. But we really love its rainbow vomiting leopard, which sort of reminds us of Thunder Cats and is very cool.
Raybaby Baby Monitor
The Raybaby baby monitor keeps a watchful eye on your baby's sleep and breathing from up to five feet away via a noninvasive, radar-based technology (the first of its kind). Meanwhile, it also captures encrypted HD video with night vision, viewable through an app on your smartphone, which allows you to check on your child whether you're in the next room or on the other side of the world. Bonus: The Raybaby is one of only two FSA/HAS hack-proof monitors on the market.
BabyBjörn Bouncer Bliss
For newborns to those 24 months, the BabyBjörn Bouncer Bliss is a parent favorite that entertains and soothes time after time. The three-position adjustable frame allows your child to learn as he or she naturally develops his or her balance and motor skills, plus the mesh fabric is breezy even in warm conditions. Best of all is how it packs nearly flat for long car trips to see the relatives.
Ubbi Diaper Pail
Take our word for it: Even the cutest kid still has an ugly diaper. The rugged, steel-made Ubbi Diaper Pail seamlessly traps in odors while remaining accident-proof thanks to an integrated child lock system. Another plus: It accommodates any standard-size liner bag, making disposal easy even when supplies are running low. Available in 12 different colors, it's a cinch to blend in with nurseries of any hue.
Joules Archie Jersey Applique T-Shirt
This is a shirt featuring a shirt-wearing dinosaur playing racquet ball. He is displayed post-swing and his tail wraps around both sides of the shirt. We like it, and a lot of the cotton crewneck graphic tees from Joules, very much.
Elvie Pump
The world's first silent, wearable breast pump is perfect for your partner, who is heading back to work any day now. Worn under her favorite sports bra (and under the rest of her clothing), the Elvie Pump toils away and cleans in a pinch. It's also incredibly versatile: a two-phase action is adjusted over seven intensity settings and recharges in two hours via micro-USB. An app allows her to monitor output and control the unit outside her clothing.
Collugo Compact Stroller
All it takes is one hand and two seconds to fold up the Collugo Compact Stroller, one of the most minimal and versatile we've ever seen. Even so, with its puncture-proof tires; removable, washable covering; and under-basket nappy bag storage space, it's still packed with features. A sun-protecting UPF-50 coverlet was a nice touch. While many will appreciate its small footprint, the Compact Stroller is ideal for those parenting in congested cities, small living quarters, and travels on public transportation.
Delta Children The Clutch Stroller
Maybe it takes a furniture company to make an eminently packable stroller. If so, Delta Children did it with its Clutch Stroller. Tipping the scales at 11.7 pounds, it's feather-light compared to others its size, and unless you see it folded up, it's hard to imagine something so robust collapsing into a six-by-15-by-20-inch package. Whether you're headed across or out of town, smaller is clearly better.
Brica Breeze Baby In-Sight Fan Car Mirror
For the continually commuting parent, the Brica Breeze Baby In-Sight Fan Car Mirror solves a host of problems. First and foremost, it lets you sneak a quick peek at your child in the back seat through a crash-proof mirror. But for those warm summer rides, it also includes a two-speed, remote-activated fan to keep the air moving and your baby cool. It also features an auto-off function so that batteries don't run out needlessly.
Qalo Hand Made Serape and Sherpa Baby Blanket
The ideal baby blanket. Measuring roughly two by three feet, it features a different fabric on each side: a hand-woven, patterned acrylic and polyester blend on the "front" and a cozy polyester fleece fabric on the "back". The only other feature is a leather patch on the corner of each blanket that can be custom-engraved with, say, the family name or a baby's full name. If loving a baby blanket this much is wrong, we don't want to be right.
Withings Thermo Smart Temporal Thermometer
It's hard to wow with a thermometer, but French tech company Withings, long known for its fitness trackers, has done just that with its Thermo. With a quick wave (read: touchless) over the temporal artery of your child for approximately two seconds, it records a precise reading that's displayed on its sleek body and uploaded seamlessly to its proprietary smartphone app. Inside, health advice, via Boston Children's Hospital, educates on possible medications and dosages, as well as tracking trends over time.
Three Mommy Doctors BabySTAT Hospital First Aid Kit
Think of the Three Mommy Doctors BabySTAT as a first-year starter kit for your newborn. Forty-one frequently used items like gauze, nasal spray, and teething drops are at arm's reach for some of your child's most-likely maladies. Designed by three emergency-room doctor-mothers, the trio has thought of everything you'll likely need for the next 12 months. Just in case you're unsure, it also includes red-flag warnings as to when you need to book it to the ER.
Momraoo 4 Cool Mesh
If you need any evidence that the machines are learning, look no further than the Momaroo 4 Cool Mesh rocker, which imitates the motion you make when bouncing your child. Cushioned in a breathable mesh fabric, the baby rocker can execute five different patterns in three dimensions, mimicking the soothing motion he or she felt in the womb. It's even Bluetooth-enabled, allowing you to control motion, music, volume, and speed with the tap of a thumb on your smartphone.
Enovoe Car Window Shade
Window shades have been around for decades, but only Enovoe has figured out a way to get it to stick in place without suction cups. Utilizing static electricity, they adhere to your window with the swipe of your hand, blocking UV waves, glare, and heat. The four-pack is enough to cover the windows of most mid- and large-size vehicles, or split them up for protection in multiple vehicles. While we haven't had to test their lifetime guarantee, it's nice to know it's there.
WubbaNub
For your child's first six months, there are few things as cute as the plush toy/pacifier combo WubbaNub. But while your child may become inseparable with a new best friend, you'll appreciate the attached toy's ability to keep his or her passy from getting lost. Think of it in the same way as a gas station attaches a hubcap to a bathroom key (this solution is much cuter). Bonus: WubbaNub has just released a bunch of new animals, including kittens, dragons, and cows.
Thule Sleek
Bigger is better with Thule's new Sleek stroller. Whether you've got one child or two, the unit's system can be configured and reconfigured based on a host of preferences. Three reclining positions, front- or back-facing options, and a separate bassinet allow you to keep this stroller from birth through years to come. Large puncture-proof wheels with independent suspension can handle all kinds of terrain (a nod to the company's off-road excellence) while UPF-50 shield fabric keeps them safe from the sun.
Comotomo Baby Bottle
Commonly called "nipple confusion" or "bottle rejection," many children have difficulty transitioning from breastfeeding to a bottle and back again—a necessary skill, especially for the mother headed back to the office. Comotomo designed its bottle to ease this trying time, adding non-leaking air vents to its top to prevent colic and a supple silicon mount on which a naturally shaped nipple resides. The wide-mouth design makes cleaning fast and easy.
Humble-Bee Free Spirit Diaper Backpack
While becoming new parents may come with the weight of responsibility, it doesn't have to come with the weight of additional luggage. Humble-Bee's Free Spirit diaper backpack, made from lightweight ripstop nylon, weighs less than a pound, and yet it comes with a cavernous 20-liter capacity, multiple exterior pockets for as-needed access, and infant must-haves like a changing pad, reflective stroller straps, and a hot/cold gel pack for bottles. Whether you're out in the bush or just feel like it, this pack is worth its weight in gold.
Beaba Suction Bowl
Say goodbye to upended dishes—and mealtimes—with Beaba's new line of suction-cupping, silicone-based bowls and plates. Adhering to any smooth surface with a slight press of a finger, these stay in place while helping children eat thanks to a silverware-focusing curve up. While ill-intentioned kiddos may pry them loose, we found they drastically reduced mess times at mealtimes, making the whole thing go much more smoothly. These are the best.
Doona Liki Trike
This stroller-trike hybrid (strike? troller? Nah) is one of the more innovative new products we've seen. Similar to Donna's previous transforming, scissor-wheeled car seat, the ride, which is intended for kids aged 10 months to three years, starts as a simple push stroller but adapts into a pedal-able trike. Most innovative? Press a button and the adaptable ride collapses down into a slim, overhead compatible carryon.
EvenFlo Every Stage DLX Convertible Car Seat
One car seat for every age, from infancy until their 120lbs., this seat has 10 levels of adjustment as your kids grow. It's rear-facing longer than most car seats, up to 50lbs., and lets parents adjust the headrest and straps simultaneously with just one hand. It installs easily with a visible bead level and has five leveling options. Also has a machine-washable seat pad and two dishwasher-safe cup holders. Tested for front, side and rollover impact.
Veer Basecamp
This portable baby crib/outdoor space folds out within a matter of seconds and requires zero assembly. It simply pops open, umbrella-style, when you want to set it up, and pops back down into a slim package when it's time to head home. Meant for any outdoor use, the space is fully enclosed with large mesh doors and windows to keep bugs out and give parents complete visibility (inside and out) from any angle. It also has no hard surfaces that kids can knock their heads against, and includes a UPF-50 sunshade.
FridaBalls
A dad's nads are an open target when a baby is strapped into a carrier, or during diaper changes, or wrestling around. These underwear, brought to you by the same makers of the beloved NoseFriday, feature a reinforced protective pouch that cushions any impact to sensitive areas. They also feature a moisture-wicking fabric keeps things relatively cool, and a no-slip waistband holds everything up and in place.
Nanobebe Breastmilk Bottle
An ideal bottle for the breast-to-bottle transition, this clever bottle helps mimic the feel of nursing with its dome-shaped, breast-like design. The bottle is actually concave on the inside, making it easy for baby to grasp and learn to self-feed, while an adaptor allows users to pump right into the bottle from most breast pumps. The interior is also more shallow than typical bottles, helping pumped milk cool more quickly when refrigerated, and warm up faster when taken out for feeding, helping to preserve those precious nutrients along the way.
Nanit Plus Baby Monitor
If you're willing to take the leap into high-tech baby monitoring, the Nanit Plus is a revolutionary piece of parenting technology. The camera provides an overhead view of a baby in the crib and it has two-way audio and the ability to play lullabies. But the real killer spec is it's suite of sensors, which keep a watchful eye on not only the baby itself, but also his or her sleep patterns. The tech notes whenever the baby is awake or asleep, how long it takes them to fall asleep, and how many times someone goes in to check on them and then crunches all the data to provide sleep advice based on gathered results.
Nuna Cudl Baby Carrier
The Cudl is a four-position carrier made from breathable mesh material that's suitable for newborn without an infant insert. The best part is that, instead of buckles, it uses magnet closures, making it incredibly easy to get baby in and out. Use a front-carrying position for little ones, or switch it to your back to carry kids up to three years old. A padded waist strap offers back support for parents, while a zippered pocket lets you store your phone, keys, or other small items.
Vianetic Diaper Bag
This diaper backpack is a cleverly designed, one-stop shop for parents who have a lot to carry. It has a magnetic pull-release that immediately turns the pack into a changing station with a fold-out pad, designed for one-handed use. A pull-out caddy stores diapers and wipes, and the pack features wet/dry compartment as well as an attachment to easily hang the bag from a stroller or the headrest in a car. Available in 16 and 20L capacities.
Collapse and Go Baby Bottles
Short on space in your diaper bag? Of course you are because you have one zillion things to carry around. That's what makes these bottles so smart. They squash down into easily packable discs the size of hockey pucks, making them easy to stuff into a bag without taking up that much room. The bottle's wide base makes it harder to tip and spill, and the bottles transition to sippy cups as baby grows by replacing the nipple and adding handles. Their removable base and twist-off top make cleaning easy.
Sweater Outfit From Tea Collection
A cozy baby is often a chill baby. This 100 percent Pima Cotton sweater set is a no-frills outfit for cooler weather. It's machine washable, breathable, and a classic addition to any child's wardrobe. Hell, we'd rock head-to-toe knitwear if we could.
UppaBaby Knox Car Seat
There's a lot to like about the beloved brand's first convertible car seat. A simple seat belt installation with an indicator that turns green when it's secure takes all the guesswork out of installing the Knox correctly. And it comes loaded with safety features like side-impact absorbing pods that disperse the force in the event of a collision; a universal tether helps reduce rotation and stress from front or rear impacts; and an impact-absorbing headrest made with memory and EPP foam to also boost side-impact protection. As it's convertible, it grows with your child, adjusting from rear (14-40 pounds) to forward-facing (25-65 pounds), so that you don't have to buy a new car seat when your kid is ready to face the world. Coming this summer
Sleepea 5-Second Swaddle
Made to keep parents sane, this swaddle can zip up or down to make cinching up baby quick and easy, and to enable quick diaper changes. An inner band keeps squirmy babies snug, and it's quiet velcro won't startle them awake as you adjust it. Breathable mesh keeps them cool, and there's extra room in the hips for growing babies. Plus, the medium and large sizes have openings for babies arms, as they start to wean from swaddling.
Clek Liing Infant Car Seat
The Liing is not showy, but it packs everything new parents need. It weighs just nine pounds and has a one-handed quick-release that makes it easy to remove from the base or a stroller. It has an effortless and secure installation whether using LATCH or the Belt-Tensioning System (with the base) or using the European Belt Path (without the base). The recline is adjustable after the base has been installed, and it has an adjustable canopy with a mesh peekaboo window so you can always see your precious cargo.
Bob Revolution 3.0 Flex Jogging Stroller
A jogging stroller for serious athletes, this upgraded model of the beloved Bob Revolution has more seat padding for your child, a larger under-seat basket, reflective strips, and a quiet-close chat window. Mountain bike-style suspension and air-filled tires make the ride soft for your little one, and a nine-position adjustable handlebar fits parents of all heights. The front wheel can be locked for stability while jogging, and a tracking-adjustment knob keeps the stroller headed straight while that wheel is in the locked position.
Baby K'Tan Weekender Diaper Bag
This handsome-looking, duffle-style diaper bag is made for travel, with lots of compartments and storage. A built-in, sealable wet bag keeps messes quarantined, while an insulated cooler bag chills bottles and snacks. There's also a one-touch wipes case, a pacifier pouch, a changing pad, and a padded storage space for laptops. The exterior is 100 percent cotton, and the interior is a germ-resistant nylon.
Shittens
These disposable, mitten-shaped moist wipes are designed to protect your hand from poop the way standard wipes can't. They're safe for use on babies and pets for the messiest jobs. Other suggested uses include as a stocking stuffer or gag gift for soon-to-be parents. Available in packs of 20.
Silver Cross Jet Ultra Compact Stroller
Looking for an ultra-lightweight, compact travel stroller? Consider the Jet Ultra. It collapses down small enough to be stored in the overhead bin of an airplane. When collapsed the belly bar becomes a luggage handle so it can be wheeled around like a small suitcase. It has lockable front wheels with a spring suspension, and it can accommodate multiple brands of car seats. Weighs only 13 pounds.
Graco SimpleSwitch High Chair
An affordable, comfortable high chair that can fit children up to 60 pounds, the SimpleSwitch converts from a high chair to a booster as your child grows, and the seat has three levels of recline for max comfort. One-handed tray removal makes getting your kid in and out easier and the seat pad is machine-washable for easy cleaning when pureed food gets everywhere.
Magnetic Me Footie Pajamas
Because wrestling your child into jams is hard enough, these footed pajamas, which are intended for children 12 months and older, have magnetic fasteners instead of buttons to make diaper changes and dressings as easy as possible. Bonus: they're 100-percent cotton and machine washable.
Instant Pot Max 6
New parents are smart to have an appliance that can make meal prep for themselves a cinch. The latest version of this popular, do-it-all cooker, lets you warm, boil, sautee, simmer, sear, ferment, pressure-cook, and slow-cook food to your heart's delight. It is extremely very useful for new parents, as it's a handy tool to make baby food and, by thanks to its steam function, sanitize baby bottles.
Munchkin Fold Bottle Drying Rack
This space-efficient bottle rack has rubber-tipped pegs that won't scratch your bottles and fold down flat for easy storage. Two peg heights let you easily air-dry your bottles, straws, cups, nipples and pumping apparati. There's a reservoir at the bottom to keep your counter dry, and the whole thing is safe to wash on the top rack of the dishwasher. Best part? It's only $7.
Hatch Baby Grow Change Pad
This combined changing pad and baby scale gives a comfortable, sturdy surface for diaper changes while also measuring your baby's weight. The free companion app then allows you to track that weight and a whole host of other pediatrician-relevant information, including feedings, sleep schedules, diaper changes, and baby's length and weight, and let's you share all of that information with whomever you choose across multiple devices.
ErgoBaby Mesh Omni 360 Baby Carrier
This new, all-in-one carrier lets you carry baby from newborn right through toddler, and the mesh architecture makes it more breathable, helping to keep both baby and parent cool and comfortable. It has all the standard carry positions, including front and back, plus lumbar support for added comfort for the carrier. Machine-washable.
Nuna Demi Grow Convertible Stroller
Pushing a pair or soon expect to be? This tandem double stroller has a low-profile frame, toddler seat, and two sets of adapters that allow it to convert from a single to a double or twin (an extra seat or bassinet will cost an additional $179 each). It offers up to 23 configurations and is more compact than other double strollers. It also boasts an all-weather seat, dual suspension, one-touch brakes, an easy release to its five-point harness, and a removable, extendable UPF 50 canopy.
Chicco Lullago Primo Portable Bassinet
Parents love this excellent, well-priced, portable bassinet. It has mesh walls and a memory foam mattress to help baby sleep comfortably. It sets up quickly with clip-on legs and breaks down quickly and stores flat in the included, zip-up carrying case. All fabrics are machine-washable, including the zip-off mattress cover and the extra soft-knit sheet. Usable from birth until baby reaches 20 pounds or starts to sit up on hands and knees.
Puj Hug Infant Towel
The Puj Hug makes drying your baby easy and secure. Two built-in interlocking silicone tabs let you simply secure the towel around your neck and use both hands to pick your baby up and press them onto the towel, against your chest. Then unhook the hooded end of the towel, place the towel on baby's head, and just like that they're warm and snug in the Puj's thick, super-soft cotton. The silicon nubs are BPA- and PVC-free, and are machine-washable. Designed to be easily hung with separately sold Pub Nubs.
Aden + Anais Classic Burpy Bib 2-Pack
These burpy bibs are big and absorbent, with 100-percent cotton muslin fabric that drapes over your baby's shoulders and, importantly, snaps at the back for a breathable layer to protect their clothes against whatever falls to the front and side. Their kidney shape makes them usable as burp cloths, too, fitting over the shoulder and covering the chest and upper back.
Bumkins Sleeved Bib
Great for the days they wear white and/or eat spaghetti, this waterproof, comfy bib has sleeves to secure the bib and protect the entire front and arms of your child's shirt. It has a food-catching pocket at the belly, elasticized sleeve cuffs and a tie to secure it in back for a snug fit. Made for kids 6-24 months, comes in 16 designs and is fully machine-washable.
Project Nursery Portable Sound Soother
An affordable white-noise machine that you can use at home or take on the go, this sound soother has a clip that lets you hang it on strollers, bags, or beside your little one's bed or crib. It has an adjustable sleep timer with 15, 30 and 45-minute settings, plus glow-in-the-dark buttons for easy nighttime use. Pre-loaded with four natural sounds, it also has two pre-loaded lullabies: Brahms' Lullaby and Mozart's Eine Kleine Nachtmusik.
Graco Sense2Soothe Swing With Cry Detection Technology
The seat uses a built-in microphone to hear baby's cries, then automatically responds, adjusting its various settings until baby is soothed and quiet again. It has eight soothing motions, three speeds and two vibration settings. Parents can save their favorite settings for baby, or they can turn off the cry detection feature altogether, and use it as a traditional swing instead. It also has 15 songs and sounds, and a three-position recline for maximum comfort.
Crane Drop Ultrasonic Cool Mist Humidifier
This tear-drop shaped humidifier is deal for nurseries. It can humidify spaces up to 500-square feet, and has no fans or filters to replace. It's also made with microbial materials in the base to help reduce growth of bacteria and mold. The one-gallon tank lets it run for up to 24 hours, and it turns itself automatically when the water runs out.
Noomie Unicorn Convertible Gown
Noomie, which was founded by three mothers, specializes in clothing made from 100 percent Pima cotton and manufactured in Peru. We like their clothes a lot, especially this easy on, easy off gown, which has a bunch of rad unicorns printed all over.
Buggyguard Lock
You lock up your bike, so you should lock up your stroller, too. This stroller lock is crafted from aircraft-grade stainless steel, featuring a thick, 2.4 mm cable and 3-digit combination dial that makes worrying about your wheels a thing of the past. The cable itself is more than 4 feet long, which allows you to fasten most strollers via a secure double-wheel loop, and the lock won't interfere with collapsing or opening your chosen child chariot.
GoumiKids Boots
Thanks to a signature two-part closure system, these soft boots actually stay strapped and secure around a child's feet. The super-grippy soles keep those feet firmly on the ground, while the machine-washable bamboo/organic cotton blend is breathable, naturally antimicrobial, and environmentally sustainable. Even better? Goumi donates 10 percent of all profits to their partner charities.
TempTraq Stick-On Thermometer
TempTraq is the first and only hospital approved, single use, Bluetooth-connected, wearable temperature monitor that should stick your baby's delicate skin. In the form of a soft, comfortable patch that adheres to your baby's body like a bandage, this device can track your his or her temperature for up to 48 hours, and transmit data to your iOs or Android device. If your baby is in distress, you'll know instantly, even if you're thumbs deep in a round of Donut County.
Summer Infant My Bath Seat
Featuring a trio of sturdy arms to hold your baby in place, this bathtub security station is perfect for tub time. The arms provide 360° of full support, and the high backrest keeps baby's neck and spine safe and secure. A wide frame allows movement without compromising safety, and the suction cups beneath the base and at the end of each arm provide a four point lockdown that will withstand even the squirmiest of sudsy little squirts.
Whisbear
Secured to the crib by magnets, this plus bear's "cry sensor" technology actively listens for a baby's wails for up to 40 minutes after you turn it on. If your little one starts to whimper, it emits a soothing symphony of pink noise, which mimics the sounds of the womb, and helps relax him or her back to sleep. If your baby is sleeping soundly, Whisbear goes into standby mode, ready to turn back on at the first sound of trouble.
Nanobebe Sterilizer
This microwave steam sterilizer eliminates 99.9 percent of household bacteria in less than four minutes. With the lid closed, the contents remain sterile for up to 24 hours, meaning you can start killing germs before bed, and wake up to a ready assortment of sterilized bottles, breast pumps, and pacis.
Infantino 2-in-1 Bouncer and Activity Seat
This affordable, multi-functional bouncer grows with your baby by morphing into a fully-supported activity seat that provides gentle, relaxing vibrations, and your choice of soothing music, natural sounds, or ambient noise. The seat also features three reposition-able toys – a fox, a koala, and a mirror – that can be used for overhead or seated play. And the comfy, fabric seat cushion is totally machine washable – in case the fun gets too out of hand.
Diono Traverze Stroller
If you're a family on the go, you need reliable wheels. And this super compact, luggage-style stroller is a lightweight (about 12 pounds), weather-ready roller that's perfect for leisurely walks around the block or quick trips to the store. The 5-point harness connects with a reclining backrest to give your child a safe, snug ride, and the full-size sun canopy features an integrated air vent for sunny days, and a tailored rain cover for those rainy rides.
Colgate ZenBaby 2-in-1 Hyperallergenic Mattress
This dual-firmness, infant-to-toddler mattress is constructed with a base of soft-yet-sturdy eco foam, and a soft-knit, organic cotton cover. The cover also features waterproof backing, and a flammability barrier. The real draw here, though, is the presence of two specific mattress sides: one for infants, and one for toddlers. The infant side is coated with KulKote Gel for optimal temperature regulation, while the toddler side features durable and supportive microcoils, which help relieve pressure and improve posture.
Cloud Island Silicone Bib 2-Pack
This colorful silicone set is your kitchen table's new best friend. Gone are the days of stray cheerios and rogue, mashed carrots, thanks to these bibs' easily-wipeable surfaces and crumb-catching troughs in the front. The rounded, built-in neck fasteners are snug and comfy, while the stylish designs make your baby look like a gourmet food critic in training.
Tiny Love Magical Tales Super Mat
This stylin' blend of black and white may seem like an ordinary play mat to the untrained eye. But, in fact, it's a true developmental playground that features eight activities to encourage cognition, gross motor skills, and overall physical growth. There's a set of shiny, satin ribbons to hone your child's tactile skills, an adjustable, stand-alone mirror for reflective play, and an assortment of bold, friendly characters to share in the fun.
Kelty Journey Perfect Fit Backpack Child Carrier
Next time you strap up with a kid on your hull, you can do it with the comfort and safety of the Journey PerfectFIT. The unique suspension system easily adjusts to accommodate both mom and dad, and the 5-point safety harness, aluminum roll cage, and generous padding make sure your precious cargo is safe, secure and snug. The adjustable foot straps will match your child's natural rest state, and the large, zippered pockets are perfect for storing whatever your adventure requires.
Lillebaby Pursuit Baby Carrier
This next-gen baby carrier features a padded waistband and lumbar support to make sure that your joints and ligaments are well taken care of with baby on the go. The breathable, weather-ready fabric, and temperature control panel also ensure that you and your child are as comfy as can be, whether you're enjoying a crisp fall stroll, or a warm summer day. There are six different positions you can choose from, all of which feature increased neck support and an adjustable seat, so can both enjoy the ride.
Skip Hop Expandable Enclosure
As soon as your little one is mobile, it's time to put him or her behind bars. Do it in style with these six cloud-print mesh panels, which allow adequate visibility between you and your spawn while making sure to keep the little rascal contained. The free-standing structure features an easy-open door panel, and the light-yet-sturdy steel frame panels can double as room dividers thanks to the secure wall mounts. A detachable clip-on play surface featuring eight enriching activities comes standard.
JJ Cole Infant head Support
Newborn necks are not to be messed around with. Cushion your baby's head with this stylish support setup, which features two separate pieces designed to grow with his or her head. Available in preemie/newborn to infant sizes, the soft, breathable supporter can accommodate a wide range of heads. The velour and breathable embroidery is machine washable, too, just in case your son or daughter inherited your propensity for neck sweat.
Hiccapop Baby Wedge Pillow With Roll Guard
Thanks to this baby sleep wedge – designed at Stanford University, and having sold north of 4 million units – you can have complete control over your baby's rolling tendencies. Unlike most other baby bumpers, this one is designed to be placed on top of a crib mattress, making the included anti-roll guards as safe and effective as possible.
Ezpz Tiny Collection of Plates, Spoons, and Cups
Remember the first time you learned to drink out of an open cup or use utensils? No? Well, truthfully, neither will your baby. But, that doesn't mean they're not important developmental milestones. The weighted bases and tactile bumps of these items promote sensory awareness, while the non-slip grip makes hand-to-mouth coordination more successful. The entire collection is made from soft, baby-safe silicone that protects your baby's developing teeth.
Brandless Diapers
Available in six different sizes, these eco-friendly mess catchers are designed to protect your baby's bum for up to 12 hours, making them perfect for a solid (or liquid) day-to-night shift. The inner and outer layers are made from softwood and corn, while the absorbent core also features wood pulp from sustainably managed forests to create an entirely plant-based bottom cover.
Bapron Modern Llama
The bib/apron hybrid is a mutation that Darwin never saw coming. Acting as a full-coverage bib, smock, or apron, the Bapron is designed for children size 6m to 3T. The fabric is durable, soft, waterproof, and 100 percent free of harmful chemicals. Add to the list that they're also eco-friendly, fire retardant, and so stylish you might be able to get away with rocking one yourself.
Dock a Tot Deluxe in Charcoal
This much beloved bedside sleeper is the ultimate docking station for babies 0-8 months (or 5-22lbs). The Deluxe offers a safe, cozy spot in which your kid can rest, lounge, play, cuddle, and laugh while you change his or her diaper. Lightweight and portable, they also allow for easy travel. The latest shade adds a slate gray style to the mix.
Adero Smart Tag System
It can be hard to keep track of every diaper bag and travel mat. These smart tags attach to whatever bags, briefcases, or gear you need to tote, while the smaller tags – called "taglets" – can be affixed to everything inside. When everything is accounted for, the main tag will flash a green "all good" indicator. If something's missing, you'll see a red light, and your smartphone will tell you what's gone rogue. The starter kit features three smart tags and three taglets, with upgraded sets containing more of each, so you can even stick one on your kid for good measure.
Owlet Cam
Turn your phone into a high-powered baby monitor that can keep tabs on your baby from anywhere. As long as you have your phone, you can monitor everything from your baby's activity to the temperature in the room. You can even open and use other apps on your phone, and leave the Owlet app on to listen for background noise or disturbances. Two-way communication also means that you can talk back and forth, and a 130 degree viewing angle means you can view more of your baby's environment than ever before.
Maxi Costi Lila Stroller
Developed by pediatricians, this modular stroller features a custom inlay that helps to reduce pressure under your baby's head, which provides a feeling of comfy, cushioned calmness. The ergonomic memory foam also lifts the legs into a natural position, which helps to reduce reflux. It features a one-hand compact fold mechanism, and three-position reclining seat that can switch from forward to backward in a snap. The linked rear-wheel parking break, and SPF 50+ canopy round out this badass buggy's list of sterling safety features.
Boon Tripod
Need a safe place to store formula? This three-legged holder has enough room for three standard bottles' worth of formula and features a twist-off cap for easy filling. The three narrow legs fit perfectly into your bottles, ensuring a flawless formula transfer every time.
Itzy Ritzy Milk Boss Infant Feeding Pillow
Torture tested by pro lactation consultants and NICU nurses, this functionally firm pillow helps position the baby at an angle that will encourage proper eating while reducing burps, barfs, and spit. The armhole provides added support for moms and, because there's no intrusive cross-stomach component, this pillow is perfect for post C-section feeding. Once feeding is over, baby can fall asleep while getting burped on the pillow.
Graco TurboBooster TakeAlong Backless Booster
Featuring two cup holders, open-loop seat belt guides and a machine-washable seat pad, it's amazing that this booster can fold up to half its size! Perfect for protecting older children and passengers who are ready to graduate from a harness booster, the TurboBooster is designed to protect children ages 4 to 10, who are between 40 and 100 pounds and 40 to 57 inches tall. And, no, we still can't get ahold of Danny DeVito to have him try it out.
Babyletto Palma
Constructed from poplar hardwood, this 4-in-1 convertible crib transforms into a toddler bed, daybed and full-size bed with ease. The four adjustable mattress positions add extra depth to the customization possibilities, while the sleek, wood-stained look and contrast satin finish give it a modern feel that's perfect for future CEOs who dream of shorting Goldfish crackers at daycare.
Boon Forb
The beauty of a flower meets the toughness of a weed thanks to some super-tough silicone petals, and a durable, easy-to-use nipple cleaner. You'll become a bottle-cleaning buff in no time with the no-slip handle grip, upright storage caddy, and smooth, mold/mildew-resistant material, which is guaranteed to never scratch your baby's favorite ba-ba.
Beaba Flopsy
There's nothing like a good pillow to provide moms support both during pregnancy and after. By combining the function and comfort of both maternity and nursing pillows, the Flopsy offers a range of positional possibilities for breastfeeding and pregnancy. The light, supportive micropearl fill material is much more comfy than traditionally stiff alternatives.
Finn + Emma Teether Rattler Toys
It's the simplest toys that are often the best and we're big fans of these beautiful wooden rattlers from Finn + Emma. Each one of the rattlers, which are filled with beans, is made from untreated Indian hardwood and finished with non-toxic vegetable seed wax, meaning they're safe for babies to bite.
Baby Jogger City View Car Seat
Designed with a slimmer profile, this seat, which supports children up to 100 pounds, is only 17.4 inches wide to fit comfortably into smaller cars without sacrificing any of the support, safety, and comfort a child requires. The 19.5-pound seat can be set up as a rear-facing, forward facing, and high-back booster seat to accommodate growing children. It also features a 10-position adjustable headrest and harness and an anti-rebound bar that provides additional safety during rear-facing rides as well as a well-coded, fat-buttoned belt system that makes installation simple.
Tom's Light Bliss Blue Speckled Chambray Early Walker Joon Flats
A simple, Velcro shoe with a rubber sole, padding around the ankle for support, and extra wiggle room for small, active toes just getting used to confined spaces, this chambray shoe is ideal for first wearers. And, as it's made by Tom's, every pair purchased means a pair is purchased for someone in need.
Beaba MiniCall Audio Baby Monitor
We get it: Wi-Fi baby monitors aren't for everyone. If you're looking for something a bit more low-tech, consider this pair. The rechargeable shock- and water-resistant monitors have a 1,000-foot audio range, 25-hour battery life, and fat buttons on the side. They audio is clear enough to hear cries wherever you are and the units themselves are durable enough to toss in a bag when you need to travel.
Hannah Anderson Lemon Sweaterknit Cap
Cold days call for warm layers. This organic cotton knit cap is soft, warm, and makes your child's head look like a big 'ole lemon. It works in any situation that calls for a bit more layers, and is especially hilarious when your kid is being a bit of sourpuss.
Carters 3 Pack Whale Original Body Suits
Achems razor states that the simplest explanation is often the correct one. We like to apply that to baby outfits: simple trumps everything, which is why we love this new three pack of Carter's onesies. Featuring a variety of whales, a creature that's never not cute on a baby, these machine washable cotton onesies are easy to take on and off and feature a number of nice additions such as nickel-free snaps and reinforced panels.
Ubbi On the Go Wipes Holder
Parents live and die by the baby wipe and thus need to be in close proximity to some at all time. This carrying case keeps up to 22 baby wipes moist and ready to dispense and, thanks to a silicone strap, can be attached to a stroller handle for easy carrying.
Brooklyn Industries Rainbow Phone Onesie
You only get to dress a baby in fun shirts for a short time, so why not outfit them in some clothes that make them cooler than you? We love this infant onesie for its ultra-soft Pima cotton but mostly for the minimalist cool vibe of the rainbow headphones graphic. Put your kid in some shades and let the vibes flow.
This article was originally published on